Rose Family Pictures - 2006
---
---
Site changes! With the 2006 September events listings, all prior events will be posted to the archives page and no more entries will be posted to the family pictures page as that page will become part of the current/archive page.
---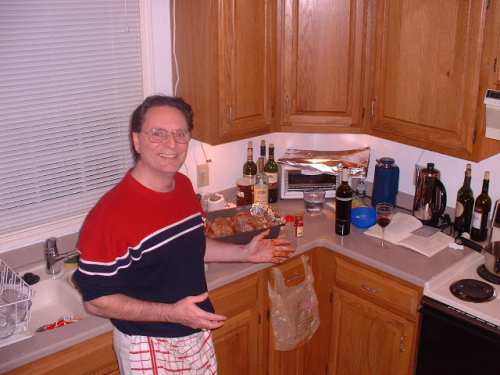 New Year's Eve getting ready to hit 2006 and you can tell by all the stuff covering my hands that I am well on my way to getting the cornish game hens done - with the all important bottle of cabernet at the ready. Marissa had climbed up on the opposite counter to get this shot. Check out the details by clicking this link!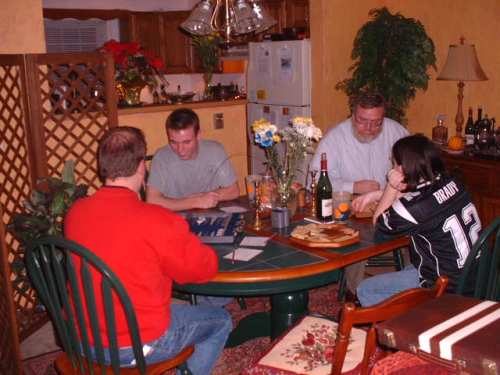 Well, I just have to have a backgammon party whether we really need one or not! And what better way to start off the New Year than to have a party? Since I couldn't think of a better way, I had a party! Check it out at The Great 2006 New Years Backgammon Tournament And 3 Fire Chili Party.
I decided to have this backgammon party on a Friday night vs. the past on a Saturday night. David Shaw fixed a great beef stew and Scott Williams brought a huge bowl of salad, so we had a feast. Some pretty good backgammon as well! Check it out at The Great 2006 Super Bowl Backgammon Tournament And Endzone Pile Up Party.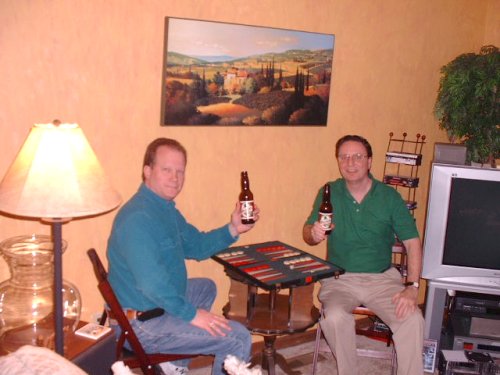 What better reason to have a get-together than to celebrate St. Patrick's Day! So, Saturday March 11th I held The Great 2006 St. Patricks Day Backgammon Tournament And Irish Feast! Must have been a good time for everyone because there was an awful lot of yelling going on and we knocked down our fair share of Killian's Irish Red along with 5 pounds of corned beef! And there weren't that many of us!
I decided last week to have a small get together Saturday night 03/18/06. Sort of a pot luck thing to celebrate my leaving work. By the time things got going, however, it turned out to be worthy of the title The Great 2006 Unemployed Backgammon Tournament And Pot Luck Pity Party. We had a great time! Played some backgammon, chatted about all sorts of stuff, and had an all around grand time. Then after a couple rounds of Jack Daniels (to ward off evil spirits and such...), we watched the movie Walk The Line about Johnny Cash - which was really good.
It was a cold Monday afternoon for Marissa's first Lacrosse game of the 2006 season, but she scored 3 of their 5 goals so she can be really proud of her accomplishment and skill.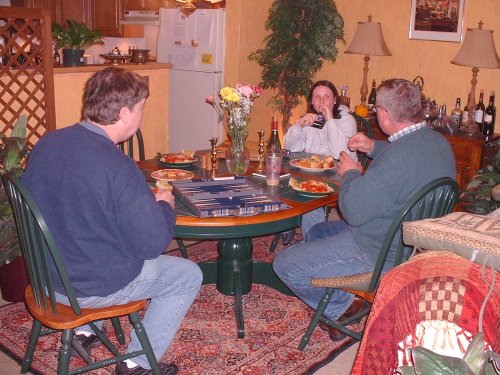 It was time to welcome in Spring of 2006 and what better way than with a backgammon tournament and dinner fest: The Great 2006 Spring Into Spring Backgammon Tournament And Simple Spaghetti Blaze! To keep it simple, I just had a generic spaghetti sauce for dinner and Rick Downs brought the garlic bread. And even as straight forward as that process was, I still missed playing quite a few games because of: stir the sauce, stir the noodles, heat the oven, etc. tasks.
Marissa storming down field blowing through the defenders like s**t through a goose during the Cinco de Mayo Lacrosse home game against Spaulding. She scored 2 of the team's 10 goals against Spaulding's 7 goals.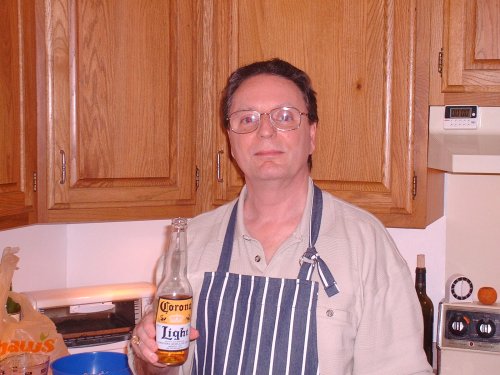 Cinco de Mayo! A great reason to have a backgammon tournament and dinner party: The Great 2006 Cinco de Mayo Backgammon Tournament And Arroz Con Pollo Mexican Fiesta! I fixed up a great Mexican baked Arroz Con Pollo - rice and chicken - dinner that turned out super; just enough cumin, oregano, and chili powder with some other ingredients to give it just a hint of that spicy South of the border taste. Here I am, Corona beer at the ready!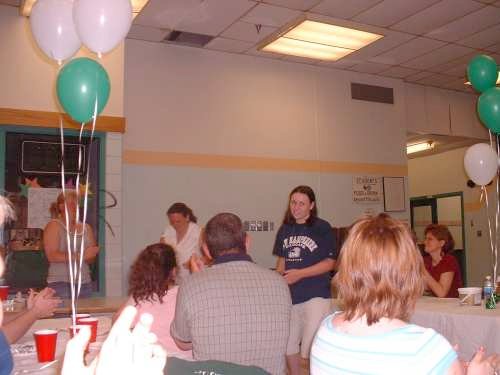 Marissa's Lacrosse team held it's annual awards night at the Dover High School 06/01/06. She received MVP having accumulated 22 goals and 4 assists, a tremendous record. She was also named one of four captains for next year's team. Congratulations, Marissa! A great year and a lot of fun.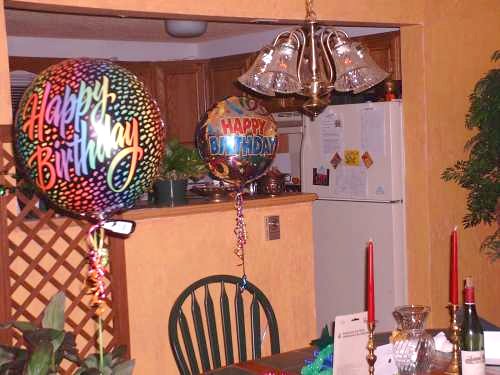 It was a great day to move Marissa out of the 16 year old bracket and into the big times at 17! I snuck downstairs around 2:00am and laid out some of her gifts so she would be surprised in the morning before she headed off to school. She was, but unfortunately all I got were the night before pictures because I was up so late putting the gifts out I never came conscience until she was heading out the door to school.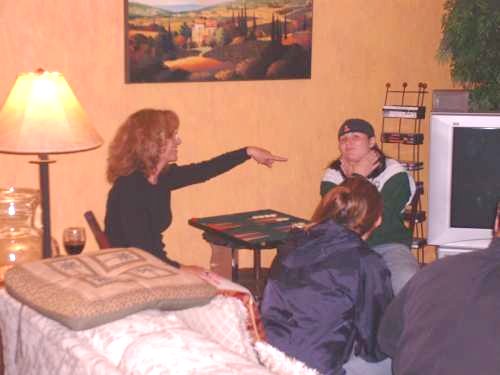 It's hard to believe that I've been at The Garrison for 2 years now, but that's what it has been. So, what better way to celebrate than have a backgammon dinner party 06/10/06! Check out some pictures from the party!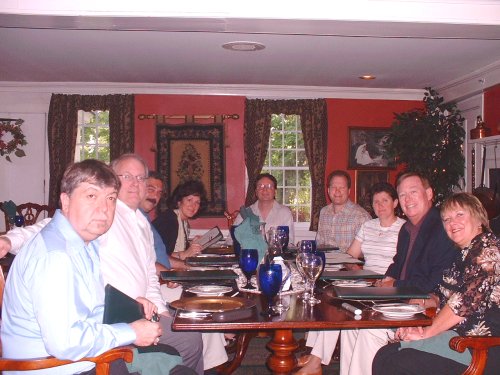 All of my local direct line disciples in the White Cobra took me out for a magnificent birthday dinner at the Three Chimney's Inn in Durham, NH. It had been a beautiful day, and the evening was equally up to that with a wonderful flower and grass scented New England Summer breeze.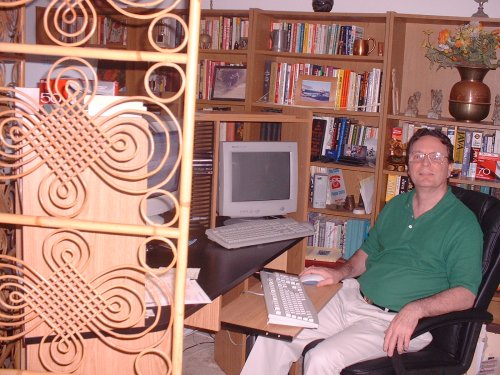 Marissa shoed me out the door Father's Day Sunday June 18th around 9:30am telling me not to come back "...for awhile" We had gone out for coffee at Dunkin Donuts earlier but I hadn't even had time to down that before I was shown the door. 17 year old daughters...

So, I dropped off the videos and went shopping. As I'm coming out of the store, Marissa calls me on the cell to find out where I am. Learning that I am just about to head home, she suggests that a great thing to do would be to go to the Barnes and Noble bookstore in Newington, NH before heading home to just "...wander the aisles for awhile..." with no real explanation of how long that is supposed to be as I have now already been gone for an hour and a half and it's 90 degrees and I'm wanting to head for home. Nope. Can't come home yet. "I'll call you..." Really.

So, I wander the aisles for about an hour and call her and say: I'm on the way. I am informed that the place is locked down and I will have to ring the bell to get in, I will be blindfolded and led upstairs to the bedroom where I am to remain under pain of death.

Well, I go through all this and have her get me the latest book I am reading so I'm all set. I finish that one and start in on another (I'm in the middle of a study of different writing techniques and have 4 more books backed up from the 5 I have already read).

So, after an hour I'm told I can come downstairs. I am led to the door of the library and when it is swung open: there is Colin sitting in my new desk chair at a brand new put-together multi section desk and computer station with both of my computers and their monitors hooked up and whirring away!

How great is that! Anyway, Colin had some stuff to do so he left. I spent some time messing around at my new desk and then continued my reading. Then Colin came back around 6:00pm and I took him, and Marissa and her friend Ashley out to dinner at Uno's in Dover.

The long and the short of all of this is that the picture shows both the new chair Colin and Marissa got me for my birthday and the new desk they got me for Father's Day. And I couldn't be more happy or proud to have these two in my life!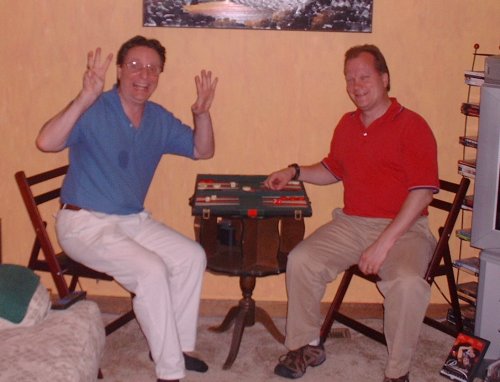 Despite the fact that Summer is a busy time for everyone - including me - I still have to have a backgammon party to celebrate the 4th of July! We did it the weekend after on the 8th.

I am saying here to Tim, "It's for an eight cube and when I beat you with that high of a cube they'll need ropes and a hook to get you down!" And I did get him with an eight! But, he came back and just swamped me with a double cube to pull back a little. The game had got so animated that I dumped part of my beer on my shirt and pants. Very professional of me, don't you think?

We had to have a change in menu to take out pizza, but other than that, check out some pictures from the party and see that the few of us had a great time!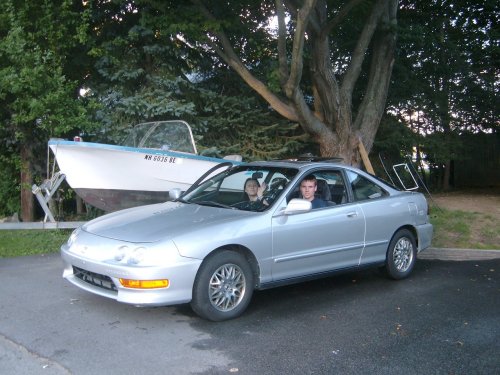 Time to sell "The Hatchie" that Colin had been driving for the last year or so as he gets ready to start the daily trek back to Nashua, NH for his last year of his Associates in Automotive Technology. A friend of his from work needed to sell his 1998 Integra and Colin thought it would be perfect for his needs. Lookin' good in his new ride!
---
Site changes! With the 2006 September events listings, all prior events will be posted to the archives page and no more entries will be posted to the family pictures page as that page will become part of the current/archive page.
---
---
Back to Family Home Page