Rose Family Pictures - 2005
---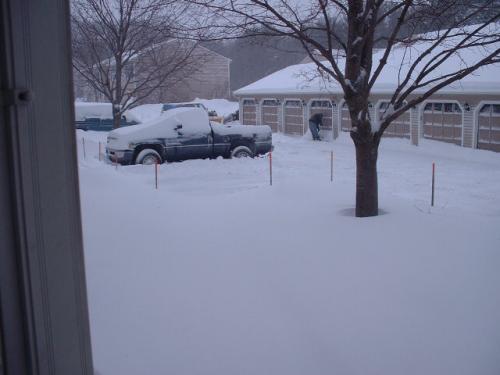 We got hit with a huge winter storm last night (Saturday 01/23/05). 2 feet of snow with howling wind just about shut us down for the day! Check out the details by clicking this link!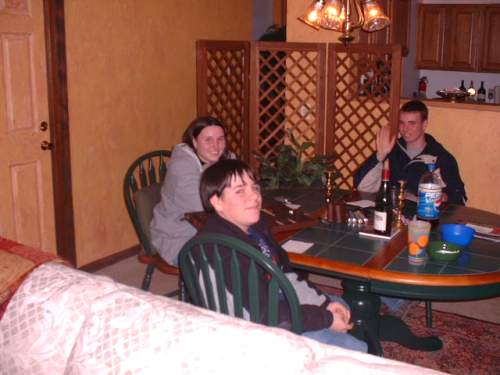 The Great 2005 Welcome In The New Year Backgammon Tournament And Italian Risotto coi Stuff Party of 01/29/05. Marissa, Colin, and David Houdek just couldn't wait to get at each other's throats. It was almost like a feeding frenzy for awhile, and was a totally bad influence on the rest of us - particularly me - who then acted like kids when we played. It was quite a sight to behold... Check out more pictures!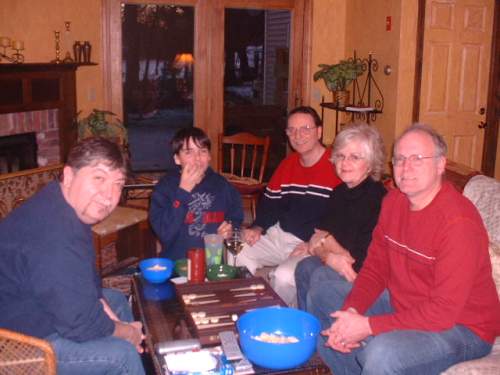 Some of the combatants for the The Great 2005 Super Bowl Backgammon Tournament And Pizza Party 02/06/05 watch a game in progress. Check out more pictures!

I had promised Marissa that I would take her snowboarding up to Gunstock in Gilford, NH this winter. So Sunday 20/13 we did it as my Valentine's gift to her. Check out more pictures! Danny on the left and Marissa on the right finally agreed to pause long enough for me to get this picture.

This is one of those pictures you send back to the folks at home digging out of 3 foot snow drifts with the happy letter caption that reads: "So wishing you were here to enjoy the 80 degree weather and bright sun...". We just needed to get out of the snow and cold for awhile and what better place than Universal Studios in Oralndo, FL. We left in a blizzard on President's Day 02/21/05 and came back the day after a blizzard and in between had wonderful days in the low 80s. How much better could that be! Our last trip to Universal in 2003 was almost to the day we left this year. For more details and pictures click here!

Somebody has to cook! Here is chef Rose in the early stages of meal preparation. Note the Killian's Irish Red bottle at the close reach! There was some concern as to my adding bay leaves and Dijon mustard to the mix, but they were all glad I did when the meal finally came out - and on time, I might add! This was all for The Great 2005 St. Patricks Day Backgammon Tournament And Irish Feast - Check it out!

The chef pulling the ham out of the oven Easter Sunday afternoon 2005. Man, was I ready for this or what! It was a great time and here are the pictures to prove it!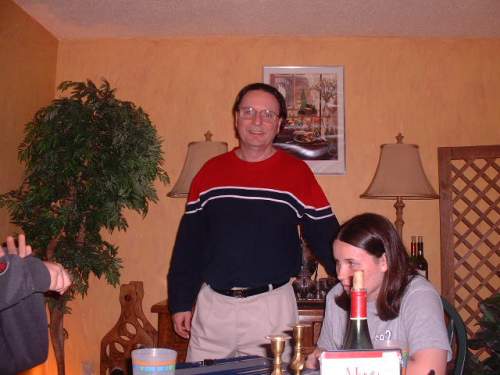 David Houdek almost out of camera range looked as though he could use rescuing from Marissa's onslaught. She ran really cold for the early part of the night but never lost her trash talk. The dice finally turned for her and there was hell to pay and much weeping as she tore into several previous opponents. Check out more action on the page The Great 2005 Spring Fling Backgammon Tournament And Pizza Special.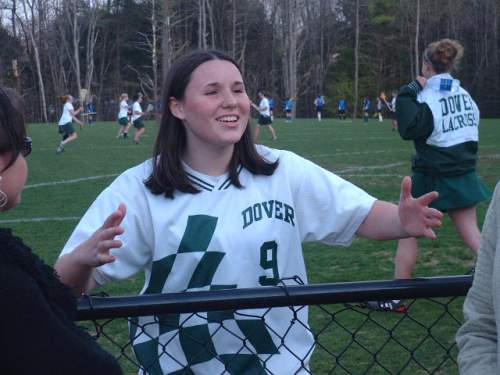 Marissa's Lacrosse team won 9 to 6 on 05/03/05 with Marissa scorring 3 goals! It was a really exciting game. Both teams were really pushing it because with just 12 minutes to play the head Ref stopped the game and told everyone to lay the sticks down on the ground and take 5 to cool off. Here are some pictures from that game.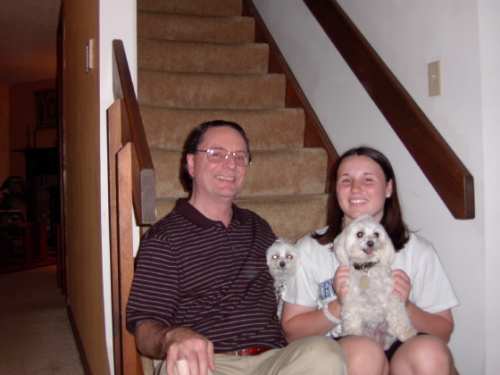 Marissa and I with guests Abbie and Molly the day before The Great 2005 Pre Memorial Day Backgammon Tournament And Chinese Wok-A-Thon.

Ya. Well, we may all look happy. But deep down inside we are all seething with rage - trash talk boiling just under the surface. What was really fun was that after most of these pictures of smiling people were taken, they would almost all immediately turn on each other with some of the most vile comments. I was truly appauled. Sure, I was; really ;-)... More pictures on The Great 2005 Pre Memorial Day Backgammon Tournament And Chinese Wok-A-Thon page.

I was working in the library 05/22/05 when Marissa came flying in all excited about two deer who had wandered out of the woods and into the field behind my condo. They paused briefly, and then disappeared back into the woods.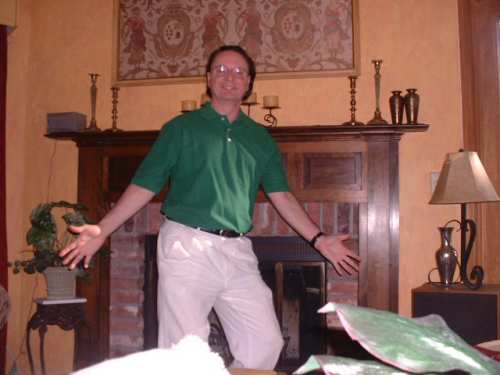 Is this guy ready to party or what! Heading out into the world Saturday night 05/28/05 of Memorial Day weekend. The whole story can be found on the Family 2005 page.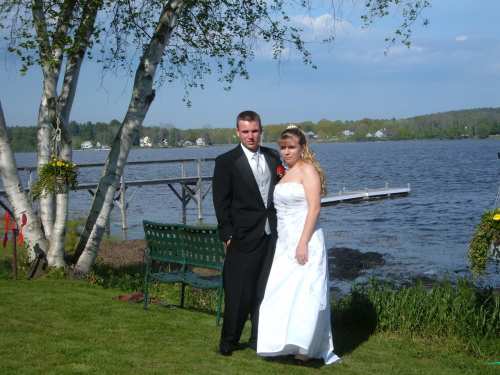 I met Colin at Hilton Park to take pictures of he and Ashley as they headed off to their high school senior prom 05/28/05. There are more pictures at this link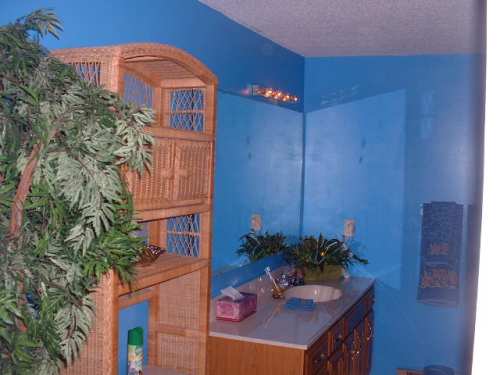 Marissa thought that Memorial Day weekend would be a great time to have her redecoration vision of the upstairs bathroom take place. The flash really throws things off and makes it look a little gaudy but these two shots give a general idea of what she did. Great job painting - and hardly a drop on her or the floor!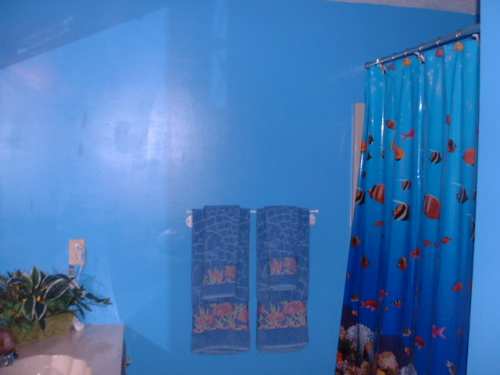 Another shot of Marissa's Memorial Day Bathroom Redecoration Project.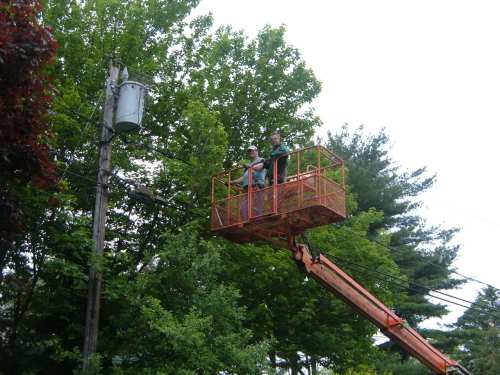 Colin up in the cherry picker 06/08/05 with neighboor friend Dale trimming the trees at Cote Drive.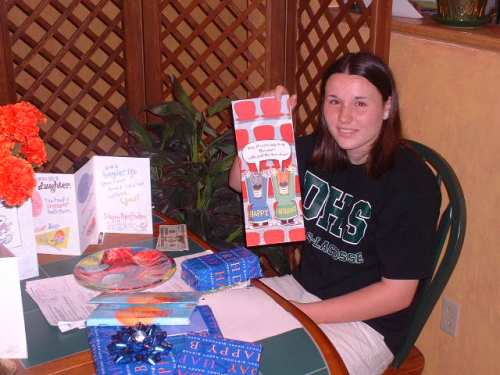 Starting off my 16th birthday Thursday morning at my dad's. Check out all the pictures!

Colin completed his last 2 dives today 06/11/05 for his 65 foot scuba diving certification. They did this dive off of York's famous Nubble Lighthouse. He said the water was really really cold...

A pause to show off his newfound status as a successful High School Grad 06/14/05.

Yes, I can drink wine and throw the dice at the same time and still kick the crap out of you... A moment of grief for Colin during The Great 2005 One Year At The Garrison Backgammon Tournament And Spaghetti Bolognese Celebration 06/18/05.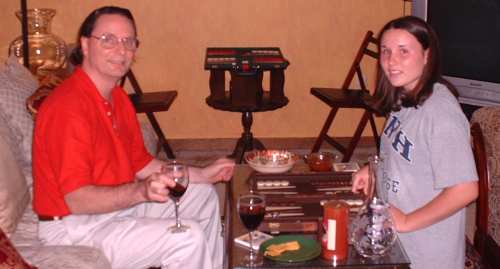 Another successful backgammon party! Just a few of us were able to get together Saturday 07/16/05 because of everyone's busy Summer schedule. But to celebrate the 4th of July, I just had to have a party! Here are some pictures of The Great 2005 4th of July Backgammon Tournament And Mediterranean Vegetables Extravaganza!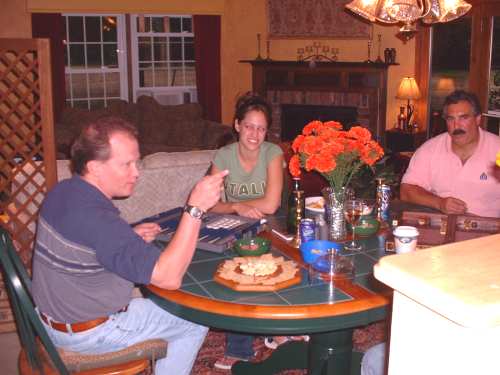 Tim threatening the fans. Hey! We were just sticking up for Lisa, Tim! Calm down and have some cheese and crackers! You can check out some pictures from the party on The Great 2005 Dog Days of Summer Backgammon Tournament And Boc Choy Cold Salad Fest page.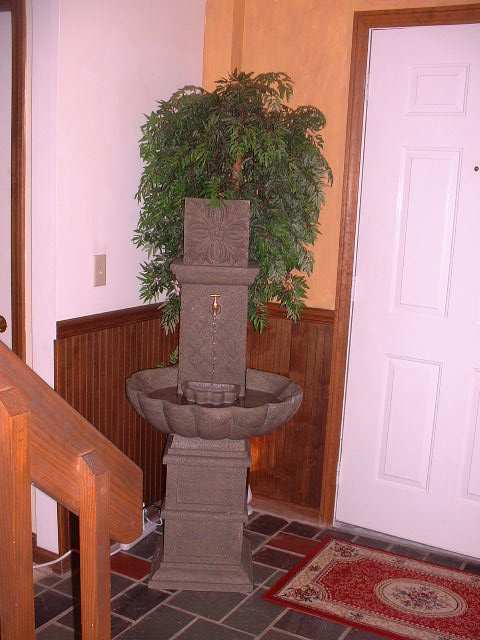 Well, for over a year I have thougth that an old world fountian would look great in my entryway hall. I had found one a few months ago but it was pretty expensive. But I checked back at the website a week ago and it was on sale! How could I not get it! It arrived Friday 09/09. It's a real old world villa now!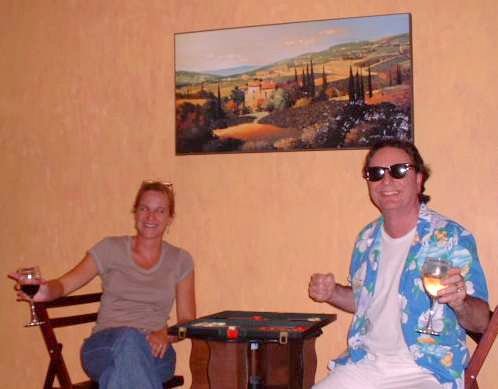 Time for another backgammon party to get everyone together after the long Summer! I thought we should celebrate the passing of Labor Day and the official end of Summer. Because this was a "get off the beach" theme, I told everyone that they needed to wear casual beach goin' clothes and to bring sunglasses and a beach towel. There are some great pictures at The Great 2005 Post Labor Day Get Off The Beach Backgammon Tournament And Pasta With Herbed Scallops Finale.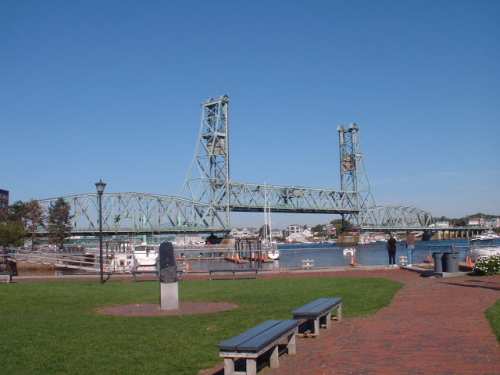 Gosh, what a great Sunday it was 10/02/05! Such a typical early Fall day - the sun was out but there was just the hint of a chill in the air. The leaves have not started to turn yet, but that is coming soon for sure! It was such a great day that there will be few like this so - on the spur of the moment - I decided that a trip into Portsmouth's great waterfront was in order as it wouldn't be long before all of the waterfront gardens at Prescott Park would be turned over for Winter.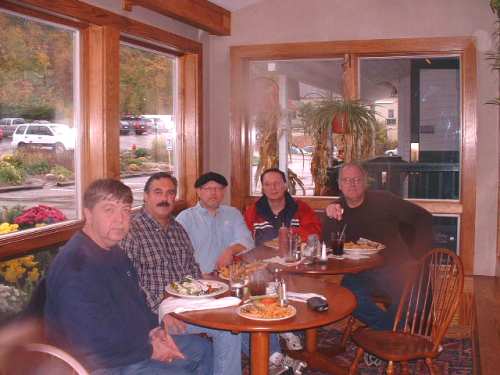 Each year, my direct disciples from all across the country gather together for 3 days with me. It is a time of reflection and grounding. A time to come together and discuss progress on assignments from the last year. A time to exchange ideas and techniques with each other so that we can all grow. Despite the constant rain and wind, we had an enjoyable time. We stayed at the beautiful Whitney Inn in Jackson, NH. There are some pictures on the Rose School of Karate October 2005 Disciple Retreat page.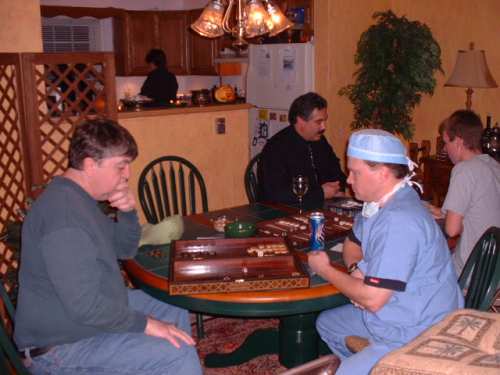 What better time for a backgammon party than Halloween! So on Saturday night Oct. 29th I hosted The Great 2005 Halloween Backgammon Tournament And Italian Rigatoni With Meat Sauce Scare-A-Thon! How great is that? Check out the picture gallery!

zzz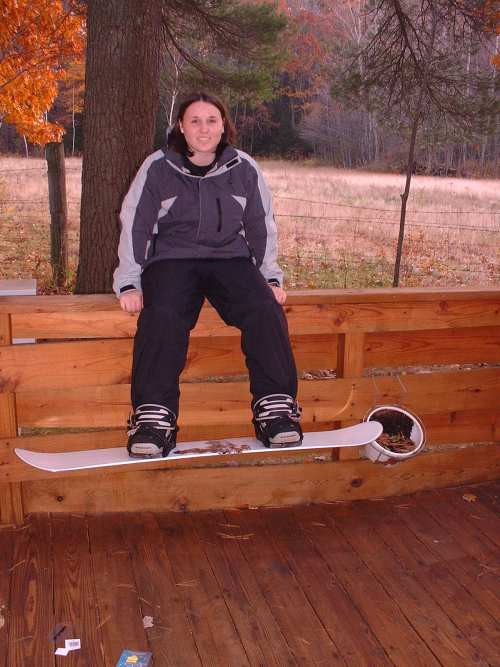 I took Marissa out shopping 11/02/05 for new snowboard gear that she needs for this winter. Here she is, all set to go but no snow quite yet...

Saturday night Nov. 19th I hosted The Great 2005 Thanksgiving Backgammon Tournament And Gobbler Bragging Rights! Knowing that the holiday season for the next few months is going to have everyone busy, there were just a few of us to celebrate. We had a lot of fun, but we played so much backgammon that some of the participants were "backgammoned out"!

Marissa insisted that I make a turkey for Thanksgiving, so here I am in mid process fixing it up. We had our first snow of the year as well and it was a beautiful day. Check this link for a few pictures.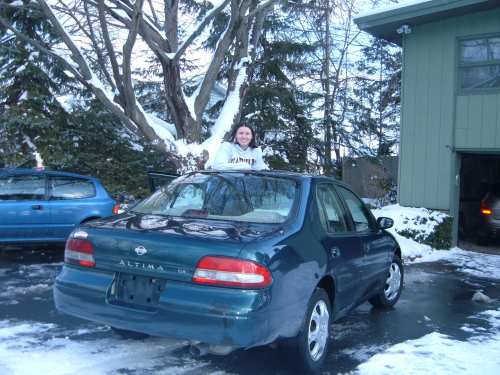 December 10th and Marissa gets her first car! It's a 1997 Nissan Altima 4 door with 152,000 miles and seems to run just great. Check this link for a few pictures.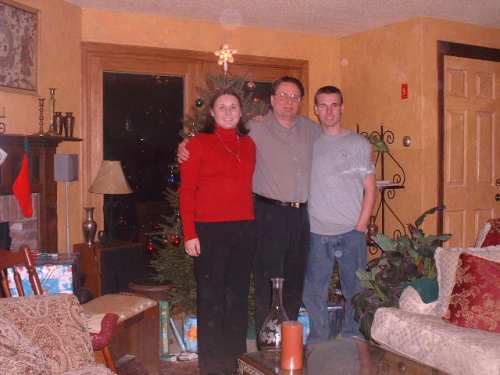 I had a comfortable Christmas with Colin and Marissa. It was a time to relax and enjoy the day with little of the normal rushing around that this time of year usually brings. Just kept it a low key celebration. Check this link for a few pictures.
---
Back to Family Home Page