2017 Rose Family Archives...
For current events, go to the Rose family website page.

---
01/01/17: New Year's Day


Sue headed out early New Year's Day to help her brother with work at their mom's house in Tamworth, NH.

I manned the fort until she called around 4:00pm saying she was on the road back and needed a party. Earlier in the week she had bought some cod, so I suggested perhaps some sort of curried cod and shrimp meal for dinner.

After running out to the store to get some additional items for dinner, I made a fire in the fireplace and started food prep work just as Sue was getting home.

I lit the fire and opened a bottle of Kendall-Jackson Vintner's Reserve Chardonnay that my karate disciple Master Tim House and his wife Shodan Cindy House had brought us the night before when they came to dinner.
01/02/17: Star Wars: Rogue One, Baby!


I don't care how old you are, these Star Wars movies are just really good entertainment. And this one was no different; just great fun.

Sue and I had planned to stop by a crafts store in Newington, NH, and then take a short walk at Wagon Hill before heading over to the show at Barn-Zs Theater in Barrington, NH. Nice thought....

Not only was the mall parking lot jammed, but it took us 3 lights just to make the turn off of Gosling Road into the complex. I let Sue run into Michaels while I waited outside in the car. It wasn't too long before she came out frustrated that the checkout lines were so long that she just didn't feel like waiting.

Great. So we head off to Wagon Hill park, which is just off Route 4 on the way to Durham, NH, to take a short power walk. But as soon as I pulled the car onto the access road, all you could see was parked cars. People were everywhere! What a zoo!

We didn't even stop. I just turned around, and we headed off to Barrington for the movie as it was now alreay 2:45pm and the show was at 3:30pm. Sue just had to do some walking, and so we did a very fast paced loop around the little plaza where the theater is located. Not enough, but enough to at least say we got some waling in for the day!

After getting home and catching up on emails and 'stuff', we had a glass of wine, and spaghetti and meatballs while playing several sets of backgammon. Then it was just some lazy tv before turning in as Sue has an early call for work tomorrow. She's changing her schedual from 5 days to 3 very long days per week; it's going to be a cold and dark 5:00am rise for her tomorrow!

I'm not getting a very good start to the backgammon battles in the new year here. Yesterday, I was down 4 points, and today all I could do after something like 12 games was come up 1 point to still be down 3 for the week so far. We play from Thursday to Wednesday as our week, and run cumulative scores for the week. We play about 3,000 games a year and it's nothing short of fierce competition.
01/06/17: 7th Year Hip Replacement


Well, since we started looking for a new home, we haven't had any backgammon dinner parties. I left off with the final party celebrating my 12th year living at The Garrison here in Dover, but that was it. We've had other gatherings, but not under that format.

So, today: no party or celebration. However, it is the 7th year anniversary of having my hip replaced. That should be celebrated some way, so will have to think up something to compensate!
01/09/17: Home Inspections: Septic and Structural


So, I was out at the New Durham property all day today in the really freezing weather while managing septic and structural inspections.

Other than myself, there was my agent Tom, the seller's agent, the septic inspector, my new renovation contractor, Steve, 2 electricians, two plumbers, and my friend Todd Tucker from Tucker Pest Control.

Did I mention how cold it was? Yeah.... it was really cold.
01/10/17: Home Inspections: Chimney


Today wasn't as long at the property as yesterday as we only had chimney and flue inspections going on.

It was still cold, but not as cold as yesterday.
01/11/17: Working dinner with Master House


My 30 plus year disciple and Master in his own right, Master Tim House, and I met for a working dinner Wednesday night in Newington at Ruby Tuesday's.

These dinners are really where the work gets done; setting goals and managing training not only for ourselves but for our students. A little wine, some good food, and great conversation! Can't beat it.
01/13/17: New Home Closing!


Friday the 13th is a special day in the Rose family; so many events - all positive - have happened on the 13th, and many on a Friday the 13th.

Today, Friday the 13th of January, continues that tradition with Sue and I closing on our new home in New Durham, NH. It seems strange that we just saw the house for the first time on the 13th of December - yes, the 13th!!! And now, one month later on the 13th we own it!




Sue captured this great view from the kitchen out into the back yard.
01/14/17: To Tamworth and Ossipee


Saturday 01/14/17, we went up to Tamworth so Sue could help her brother with the continuing project of cleaning out their mom's house. Neither of them have a lot of time, and so when the opportunity presents itself they get together and just go through as much as they can.

While we were there, Sue got to talking with Alan and he offered to swap out one of his cars - a 2003 Saturn VUE, 4 wheel drive mini SUV - in exchange for their mom's new car. I think that'll be swell in comparison to my 4 door 2001 Honda Accord which is just not suitable as a Dump Run Vehicle or kayak hauler.

From Tamworth, we drove over to Sue's niece's house in Ossipee to celebrate her 2 grand niece's 18th and 14th birthdays.

They had great pulled pork sandwiches, and all sorts of snacks. While most of them gathered in the dining room playing a game called "MadGab&quot, I watched football with some of the guys in the living room.
01/15/17: Busy Sunday and Dinner Party


Sue had found a trundle day bed advertised that we thought would be handy at the new house. We drove up and met Colin at his house, and used a truck from a friend of his to go over to Newmarket, NH to get it.

Since we don't have a place to store it and the house won't be ready for a month or so, Colin and Ren said they'd be happy to keep it for us. We had a nice visit with them, but had to head out around noon.

We went back to the house, finished the shopping list, and while Sue went down to Newington to run some errands, I went food shopping. Fortunately, the store wasn't too crowded. I got back just after 2:30, cleaned up a little, built a fire in the fireplace, put some music on, and started food prep work for our dinner party later that evening.

We had invited my black belt student Eleanne and her husband Michael over for dinner. It was a celebratory dinner for Michael who had recently lost his job; you just can't take that sort of thing seriously. Besides, I figured they would enjoy having my mom's recipe for ox tails in wine.

Now, I'm not an exotic foodie, but my mom just made the most terrific meal with these. You flour and then brown them up in a huge pot. To that, you add in garlic, a couple of onions, and some herbs, and cook until the onions are starting to soften. Because I was fixing 8 servings, I added 3 cans of tomato paste, 4 cups of organic beef broth, a bottle of nice Cabernet Savigon, some sugar, and some balsamic wine vinegar. And after 3 hours of simmering, it was spectacular!

I also fixed a huge batch of green beans, sweet red pepper, shallots, garlic, some Wochester sauce, sherry, and mushrooms. Sue did the mashed potatoes and made a terrific lemon and ricotta cream chese desert that you would just die for.
01/20/17: Renovation Work on New Home Starts


Sue and I drove up to our new home to watch as Steve, our contractor, began renovation work.

Today was essentially "Demo Day" where the ceilings in the two smaller downstairs rooms were torn down. Steve and his helper, Art, also removed the wall connecting those two rooms, and the walls separating them from the living room.



01/22/17: Mia At Disney World!


Here's a terrific picture of my granddaughter Mia at Disney World 01/22/17 with her dad Gary and my daughter Marissa!


And here she is all strapped in and ready to go again the next day!


Pre food wipe out...


Obviously having way too much fun! Food wipe out!



01/27/17: Renovation Progress


Sue and I went up to our new home today, Friday 01/27/17, to check on the renovation work. Our contractor Steve had told us that he had the stairs all ripped out, and we really wanted to see what that looked like.



02/02/17: Beam Staining


Sue volunteered to stain the beams in the newly opened up living room ceilings, and so Thursday morning 02/02/17 we drove up to the new house.

Were it not for the fact that the beams in the original dining room had been stained over 30 years ago, I would have loved to have kept the rough hewn look of the wood.

But the contrast between the stained beams and the newly exposed beams just seamed awkward.

It was a good day to do inside work; really bitter out. In fact, it spit snow a little bit while we were up there!

It took both of us 3 hours, but when done you could hardly tell the difference between the originally stained beams from over 30 years before to what we did. Not perfect, but at least it provides better continuity to the room.
02/04/17: Busy Week Celebration Dinner


Sue and I decided we'd have to celebrate our beam staining success with a nice dinner and fire.

We had a Home Depot trip to make to pick out carriage lamps to hang on each side of the front door in New Durham, and so ended that off with food shopping for the week.

To start the evening off after I had built a fire in the fireplace was to pick out another bottle of wine from my parents that I had saved way too long. My dad became quite the wine connoisseur after retiring, and would lay down bottles of the year's top wines. I had thus inherited a couple of cases when they passed.

Tonight, I pulled a bottle of 1978 Louis Martini Cabernet Sauvignon, hoping that the result would not be the same as the last 6 bottles I've pulled over the last 8 years: excruciating vinegar....




Unfortunately, this one was bad as well. Not only is it really difficult to keep any wine a long time (20 years is about max), but when you don't have those really ideal storing temperatures to keep it cool, it's just certain that the wine will go bad. An expensive "bad" at an estimated retail price of $125.... Note in the upper right hand corner is "5.30" which is what my dad paid for the bottle.

Over the years since his death in the early 1980s, I've had many, many fine bottles of wine from his collection. I remember one bottle of 1974 Charles Krug Pinot Noir that was just spectacular when I had it in 2004. The folks I had over for dinner that night were quite experienced with 1000 bottle collection at their home, and loved it. At the time when I looked the retail price up it was around $400.

Too bad that these wines have just gone bad. I've only a few bottles left, but assume all are shot. Fortunately, my off the cuff menu of thyme sauteed shrimp and asparagus with onions, red pepper, garlic and sherry with a side of rosemary steamed cauliflower sprinkled with paprika came out much better. And the bottle of 2014 Bogle Merlot I had bought paired wonderfully with the food.
02/09/17: Blizzard Hits


The weather had been warning of a storm coming for days. Each day, the intensity predictions became greater until last night when the reports were that we'd be in blizzard conditions from early morning Thursday 02/09/17 through late night.

And did the snow fall! All day, visibility out of the library windows was just barely to the tree line behind the adjoining condo project.




At times, the wind whiped the snow against the windows in 30 mph gusts so hard you couldn't see anything. However, it was spectacularly beautiful, just like out of a movie!

New York was supposed to get up to 18 inches, and I suspect most of the city just took the day off because there wasn't much activity in the stock or currency markets; I sat with an open position that didn't change much in value most of the day, the little quote boxes on my screen hardly flashing at all.
02/11/17: Full Moon Snow Shoeing Adventure


Saturday night 02/11/17 Sue and I hosted our last annual Full Moon Snow Shoeing Adventure here in the Seacoast area. Though just the third time we've done this, it seems that its always been either during or right after a huge storm!

This was no exception. The area had been hit the day before with the third pretty good blizzard in the last few weeks. At least it wasn't going on that evening!




We met Colin and Ren, and Mike and Sheila for dinner 5:00 pm at Newick's Lobster House in Newington, NH, part of the tradition. Just a few folks this year because of the storms and approaching Valentine's Day on Tuesday. After dinner, Sue and I met up with Mike over at the Kingman Farm parking area on Route 155 in Durham, NH.

Because of the storms, the town hadn't plowed out the parking area; there was no way we'd get in there let alone get out! There was a wide swath on the side of the road that, though filled with snow, had obviously been used for parking.

We slid in there but decided to turn around and come in from the other direction so that when we had to drive out, we'd be facing the downhill slope for better exiting traction. And we needed every bit of that when we left! There was a deep slushy snow covering everywhere.

Rather than snow shoeing back into the woods along the main trail, Sue charged off into the fields to the right. The plan was to traverse along the side of the woods, and then take one of the side trails that would loop us back onto the main trail to the parking area.

It's a good thing Sue knows Kingman Farm so well. The trails were barely traveled, and though it was a full moon, the gray overcast muted the light so that once in the woods it was tough telling where you were going. Well..., it was tough for me to tell where we were going. But Sue knew right where to go, so Mike and I just followed, stopping every now and then to marvel at the deep quite of the woods.

When we got back home just after 8:00 pm, I called Steve to let him know we had arrived. He and Becca had not been able to go out with us, but said that they'd join us for the movie of the night. We chatted for awhile over a glass of wine and Finnish Blueberry pie Sue had made that afternoon, which was just the best you can imagine after trudging through the deep drifts in the cold woods.

The movie of the night was the classic 1972 Robert Redford movie, Jeremiah Johnson. Though long, what a spectacular film. And so fitting to the snow shoeing adventure we had just come from!
02/13/17: And The Blizzard Continues!


The first blizzard hit 20/09/17, took a brief breath after dumping around a foot on us. Then, it snowed the 10th and 11th for several inches more. But yesterday the 12th and today the 13th the storms have come back with a vengence.

Here's a picture out the front door this morning with 13 inches down and still snowing to compare with the one I took on the 9th when we got around a foot:




And here's a shot of the driveway at the New Durham house where we got over 10 inches:




Our contractor, Steve Chorba, took that shot, as well as well as this picture of the road, as he was pulling up to the house.




And here's a picture of Mia playing on a snow hill that Marissa sent to me!



02/14/17: Valentines Day Dinner


I drove up to the new house this morning to leave some boxes of books, and stopped off on the way home to food shop for tonight. I thought I'd cook in tonight because Friday evening we're going out to Durbar Square, a Himalayan restaurant in Portsmouth, for dinner before heading over to the Seacoast Repertory Theatre for their production of Driving Miss Daisy.

I didn't get back from running around until after 2:00 pm, and so I started the food prep work. I wanted to be freed up so Sue and I could enjoy a fire and play some backgammon before I had to do the actual cooking.

Before starting to chop up the onions, garlic, and ginger root, I popped open a bottle of 1978 Beaulieu Vineyard BV Georges de Latour Cabernet to see if maybe it was any better than the bottle of 1978 Louis Martini Cabernet I had tried back on 02/04. This was another bottle of the approximate case of wines I have remaining from my dad's collection.




Unfortunately, this too had gone bad. I'm afraid they all have. What a shame for what is currently selling for $125 a bottle....

But we still had wine! I opened a bottle of organic Natura Chardonnay, and we sipped that while we watched the fire and played several sets of backgammon, of which I went down 23 points!

Well, maybe not so good tonight with the backgammon score, but my pork chops sauteed in onion, garlic, ginger root, thyme, tarragon, and sherry with paprika and thyme steamed kale.
02/17/17: Dinner and Play in Portsmouth


Sue and I drove into Portsmouth, NH for dinner at Durbar Square, a new Himalayan restaurant, and then went to Seacoast Repertory Theater for their production of Driving Miss Daisy.

We were excited to try Durbar Square because it is owned by the original family who opened Cafe Mo Mo in Manchester. Unfortunately, the last 2 times we've been to Cafe Mo Mo, it just has not been very good. And now, comparing it to Durbar Square just proves how poor the food was. Durbar Square was so good, I can't believe it!

And we totally enjoyed Driving Miss Daisy. We'll miss the ease of access to The Rep after we move to New Durham, that's for sure.
02/23/17: Interior Painting Work Progress


Sue and I drove up to the New Durham house Thursday 02/23/17 to see how the painters made out after 2 days of work, and to see the new stairs Steve was finishing up.

We got there just before 11:30am, and were both just totally knocked out with how great everything looked!

Sue hit the colors right on it, keeping with the period and character of the house.
02/28/17: Dusk at the New House


Sue caught this great picture of the new house at dusk on Tuesday night 02/28/17 when we went up to check on how the interior painting was going.



03/02/17: Airport Run!


It was a really cold Thursday night 03/02/17 for Colin and Ren to return from their weeks vacation in Punta Cana, DR. After waiting for just a little while in the cell phone lot at Logan International Airport in Boston, MA, Colin called around 10:45pm and said they had their bags, but to hurry as they were freezing!

Sue and I couldn't help but to razz them about it, though it was pretty cold even for us at something like 15 degrees F! But that's what you get when you send pictures of yourselves basking in the sun on the beach with Pina Coladas raised high in toast!
03/06/17: Floor Restoration Begins at New Durham House


David Bourcher of Boucher's Wood Floor Care had completed quite a bit of the repairs to the original wide board pine floors at the New Durham house, he still had some remaining work to do Monday 03/06/17 before he could start the process of sanding.

Sue and I had decided to restore all of the floors in the house from their painted state to their natural color. Because of their age, David said he'd need to put at least 4 coats of polyurathane down.

By the time I got to the house just after noon on Monday, David had just begun to strip the floors in the library. It was so exciting to see the contrast of the old floors with what was appearing after the sanding.
03/13/17: Floor Restoration Completed


David of Boucher's Wood Floor Care had requested that no one enter the house until Monday to allow the last coat of poly to completely dry. I could hardly wait to get up to the house to see them!




Sue got home not long after I did, and was so excited about the pictures of the floors that I had sent to her. She was so about to burst that I told her to jump in the car, and I'd run her up to the house before dusk so that she could see them.
03/16/17: Moving Day!


Tony and Eli from Burke Moving out of Somersworth, NH had come over for about 4 hours yesterday (Wednesday) to pack everything they could. Both of them and 2 others arrived today at 8:30 am with 2 trucks to start loading.

It was more than a hectic day... It took them almost 5 hours at the condo to load the trucks, and then several hours more at the New Durham house to unload.

While the movers were packing up the condo, Mike and Dennis were up at the house installing the shutters they had build for us in each of the 12 main windows. They came out just super! Thanks Mike and Dennis! Skills far beyond just being great painters!




But man... when the movers left, there were boxes everywhere! Sue and I were like traffic cops trying to be sure everything got routed to the correct location. But you can only imagine how that went....

Despite our work in thinning things out before the move, it was easy to see that we still have way too much stuff. Not only are we going from a 1450 square foot space to 1250 square feet, the pitch of the roof in old homes like this totally eliminates wall space in the entire upstairs.
03/17/17: Friday Dinner Party


Friday 03/17/17 Sue's friend Jen and her boyfriend Butch brought a great Indian inspired crock pot dinner and enough wine to get us through the evening!

Thursday after the movers left, and then all day today, Sue and I had worked to at least put some order to the chaos. It's so important to get things into a reasonably livable state after an ordeal like this. Otherwise you just feel like you're living in a bus terminal.

By the time Friday evening came, I lit my first fire in the woodstove and Sue made some final adjustments to furniture placement and organizing the kitchen area. It was great to then let it all go when Jen and Butch arrived.




We had a wonderful evening, but made it an early night because we were both exhausted.
03/18/17: More Box Management and Colin Visits


After a hot cup of coffee, Sue and I were off into the barn to see if we could find some things that were missing which should have showed up in boxes the movers had brought into the house.

We were totally horrified that the entire huge left side of the barn was packed floor to almost ceiling with stuff... Sue climbed through the maze and across the top of the mountain, opening boxes and searching for missing items. And it was cold in there!

We did find some things, but others remained a mystery. While waiting for Colin to come over - as he had called and said he'd be up in Farmington helping a friend and wanted to see the after construction and floor renovation - Sue threw herself into a kitchen organizing frenzy.

Colin was amazed as the last time he had seen the house was just after the stairs had been torn down. He and Ren couldn't even see the upstairs then. But now, the transformation was huge for him to marvel at.

I had been whining about having to figure out how to hook up the 52 Inches of LCD Viewing Joy, with associated 5.1 surround sound system, Blu-ray player, and Roku box, and so before he left he got us all hooked up. What a relief that was! If left to do all of that on my own, I would have probably had to been put on Prozac....
03/19/17: Marissa, Gary, and Mia Bring Sunday Coffee and Muffins


Marissa had been wanting to see the house, but with her work schedule and her role as Head Lacrosse Coach for Spaulding High School, she just hadn't had the time to break away when I was up during the construction. But now that was done, she, Gary, and Mia brought Sunday coffee and muffins.

They stayed for several hours before heading out. It was such a great visit, and we hope to see more of them. But after they left, it was back to more unpacking and organizing. We're wondering if this "unpacking and organizing" is ever going to get done....
03/21/17: Unscrambling the Paperwork Mess....


So, now that some of the moving chaos has been organized, I had to start unscrambling the dozens and dozens of files for all of the stuff that I'm involved in. Witness below....




After 2 days of wrestling with it all, I did manage to expose the wood on the top of my desk. But this is going to take a lot more work than a couple of days effort. And you can see the boxes of books stacked 4 high and lined up along one whole wall....
03/23/17: Dusk Settles Over New Durham


Sue caught this great shot 03/23/17 from the top of the ridge just as the sun was setting over the mountains in the distance.



03/25/17: Caught in Winter Storm


With only a weather prediction for light snow showers, Sue and I headed out for the day. We had a couple of general stops to do first, but the focus was to grab lunch at KFC in Rochester, and then head up with it to Ossipee to share with Sue's Aunt Carol for her 81st birthday.

What started out to be a mix of light snow and rain quickly turned to snow as we got onto Route 16 and headed north. The further we went, the worse the snow got. Visibility was some of the worst that I've seen on 16 in a long time, and the roads were so slushy that I had to keep my speed to around 35 to maybe 40 mph.




Sue snapped the above picture as we crept up Route 16.

And when we got to the turn-off for where Carol lives, I slid right past the first entrance. There was another entrance a little further up 16, and so I slowed way down. But I still slid just tapping the breaks. As there was fortunately no traffic coming, I just sort of broadsided across the road and into the entry road. Thrilling....

We had a great visit with Carol, but by 2:30 pm I said we'd better get going. The whole time we were there, the snow had kept falling. Though not too heavy, it was constant and had accumulated an additional inch or so on the car. I went outside and shoveled for Carol and got Sue's car warmed up.

Sue suggested that we come back home over Route 28 through Wolfeboro rather than mess with Route 16. Though less traffic, and more alert, paitent, and careful drivers, we still saw a few cars off the road; even 1 that had rolled over. It was a mess. Again, very slow and very careful.

I got a fire going in the woodstove as soon as we got home, shook off the chill, and settled into a nice late afternoon view of the snow falling outside the windows. What a surprise storm that was.
03/26/17: Winter Dusk From Inside


After tending to the woodstove, I flopped down on the sofa to see what was on tv. I happened to glance out the window toward the barn and just knew this was a picture Sue would love to capture.



03/30/17: Wrought Iron Stairway Railings Installed


Wednesday 03/30/17 Ernie of Milton Fabrication installed the wrought iron stairway railings that he had designed for us.




He did such a great job! When Sue got home from work she just couldn't believe how great they look.
03/29/17: Renovations Complete!


Well, all of the renovation work has been completed this week, and so we posted the house numbers on the door frame making it official! We're in!



04/01/17: April Fools Blizzard


What a storm on the mountain Thursday 03/30 night and into Friday 03/31! It was beautiful. A real April Fools blizzard with about a foot of snow dropped on the mountain.




I spent a couple hours snow blowing and shoveling Saturday morning, and pretty much ached all over that night. After comining in, a hot shower, and some advil I was all set, though stiff for sure.

But a little wine while cooking dinner — an off-the-cuff fresh rosemary, balsamic vinegar, scallion chicken dish with side of sauteed carrots, sweet red pepper, green peas, and onion in thyme served over rice cooked in fresh Italian Parsley — I was feeling pretty good.....
04/06/17: Rose School of Karate First Class New Durham


Though only having officially moved into our new home in New Durham, NH 04/01/17, I held my first Rose School of Karate class Thursday 04/06/17 out in the barn.




Because of awful weather on the mountain, I was the only one attending. But that's fine. I ran all 10 of our karate forms, and capped it off with Rose Crane Spreading Wings at the Break of Dawn. It was a good class.
04/08/17: Family Visits


Sue's brother Alan and his wife Joann came by Saturday afternoon to see the house for the first time. We had a nice visit with them, and were so happy that they stopped by to see us.




While Sue took them on an extended tour of the house, barn, and grounds, I started some preliminary food prep work in the kitchen as we were having Colin and Ren over for dinner.

Though the weather was relatively mild, I got a fire going in the wood stove. But by the time Colin and Ren came, it was so hot in the house that I greeted them with, "No, there no old f'n people living here!" They thought that was hysterical....
04/12/17: Happy 30th Birthday, Colin!


To celebrate Colin's 30th birthday, Sue and I took him and Ren out for dinner at his choice of The 99 Restaurant in Dover, NH.

We had such a great relaxing time. It was so nice to spend a couple of hours with them, catching up on everything going on in their lives.
04/16/17: Easter


We had planned to drive up to celebrate Easter with Sue's neice Tracy and the family in Ossipee, NH. But Sue's cold that had just been a minor irritation the last few days became a really bad cold last night.

So, it was a quite day on the mountain for us. The sun was so warm, and with a light rain last night there were so many terrific smells of Spring in the air, that Sue just couldn't resist. I got a lawn chair out of the barn for her, and after a short, slow walk around to see some of the flower buds just begining to open, she sat outside for awhile.

Sue had taken this picture at the top of the ridge on Friday of Mount Washington still snowcapped.




Marissa got some good pictures of Mia Easter Sunday, one in particular with Colin and Ren: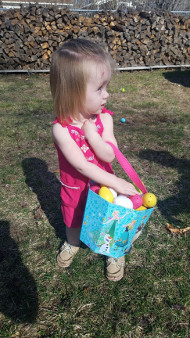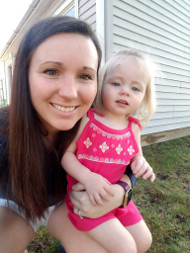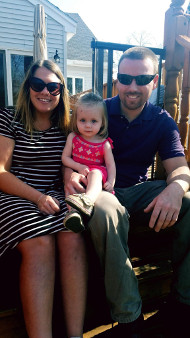 04/18/17: First Date Anneversary and Both Sick!


Sue had not only picked up a bad cold and sinus infection, but she passed the cold on to me!




Though both of us were not feeling our best, I fixed a special dinner and got a fire going in the wood stove to celebrate our 7th first date anneversary.

We weathered through it just fine, though slowly and with little fan-fare....
04/22/17: Colin Transfers Trundle Day Bed


Sue and I had bought a trundle day bed awhile ago for the new house. Colin had been nice enough to haul it over to his house to store it for us.

He picked me up today, Sunday 4/22, we drove to his house in Somersworth, loaded the day bed onto a truck he had borrowed from his friend, and then carted it over here. Though I didn't at first think we'd be able to get it around and over the wrought iron railings and up the stairs, Colin muscled it around until he succeeded.

After he put it together, he drove Sue and I down to the Lowes Home Center in Rochester. We had seen a 3 burner outside gas grill there a couple of weekends ago. Not wanting to have to buy it in pieces and have to assemble it, and at the time not having any way to get an assembled one home, we just kept it in the back of our minds. Colin and the truck were just what we needed!
04/26/17: Fog on the Mountain


It's been a wet and very foggy few days up here on the mountain. Maybe because of that, however, when the fog did clear a couple of deer come out of the woods, a herd of turkeys swooped through the yard and scrambled across the road, and I finally saw our resident porcupine, "Hugh Pine" waddle along the stone wall.




Sue also got this spectacular picture of a still very snow capped Mount Washington, over 80 miles away:



04/30/17: Gale and Sue Work on Flower Planting


Sue's friend Gale came over Sunday 04/30/17 to help organize and start the planting of different flowers around the yard.

She had brought a bottle of Cabernet that we enjoyed with a dinner I fixed while the girls were in the living room chatting.