---
Back to Family Home Page | Back to Peter's Home Page
Merry Christmas from Marissa, Peter, and Colin!

Though we had great morning get together, there was no snow to make it seem like Christmas in New England.




It's been really mild for this time of year. Busines at the ski areas is really down and not much prospect for snow at all! Christmas day was more like I used to spend with my parents in Oceanside, CA after they retired from Chicago. Well, not quite that nice!

Colin and Marissa came over to spend the morning with me and we had a great visit. It's so special to spend that time with them. Though I got constant grief about taking Christmas Day pictures, I persevered over that and got a few.
---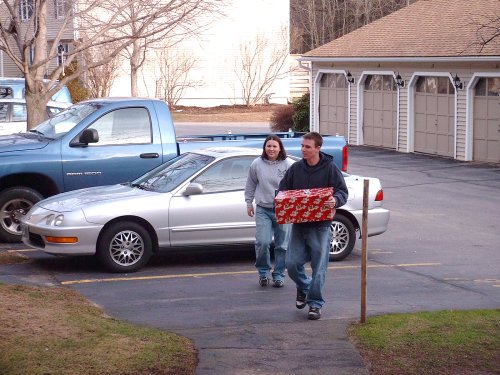 Marissa and Colin arriving to spend the morning with me. Where's the snow?!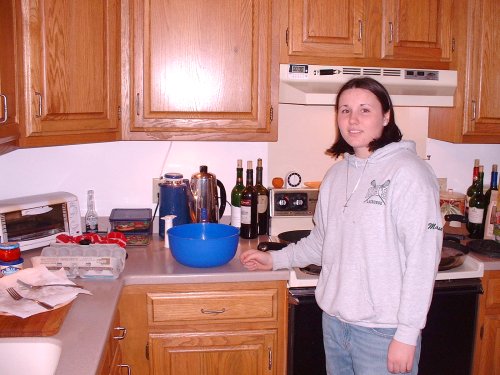 I told the guys that I'd fix bacon and eggs, but Marissa wanted to be sure I knew what the hell I was doing. Satisfied with the outcome, she handled the cleanup detail.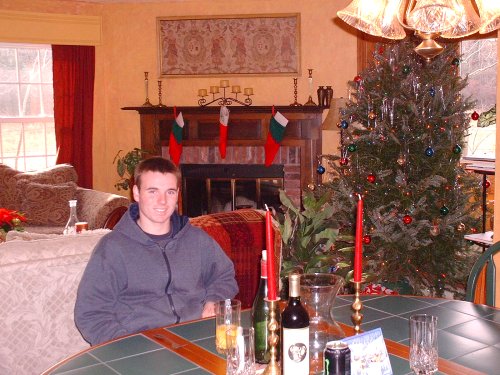 Colin in his characteristic "I'm hungry; where's the grub?" pose...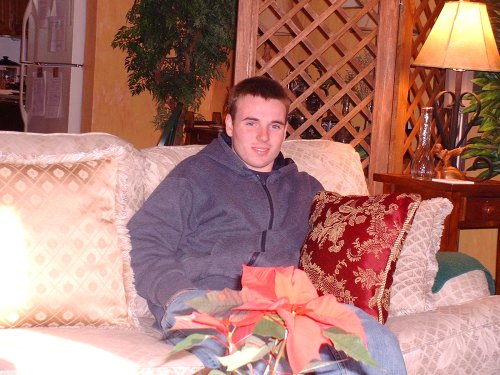 Colin in his characteristic "I'm fed; What's next?" pose...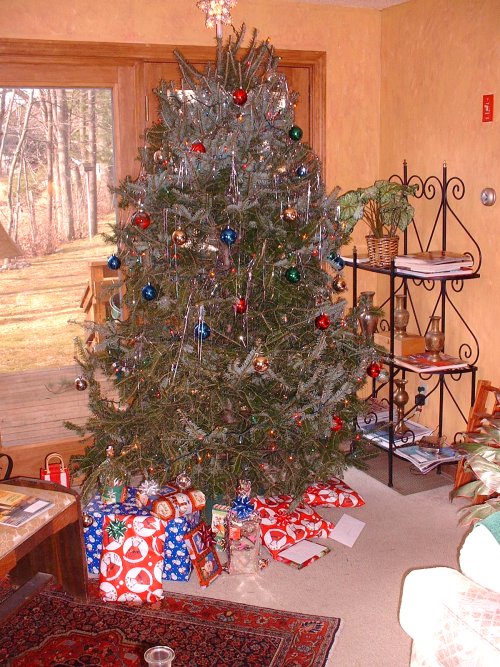 Marissa picked this tree out and decorated it, as well as the rest of the house. Great job and it has certainly brought a sense of the holidays to my home. Now, if we could paint in some snow in the background it might look a little bit more like Christmas in New England than Oceanside, CA!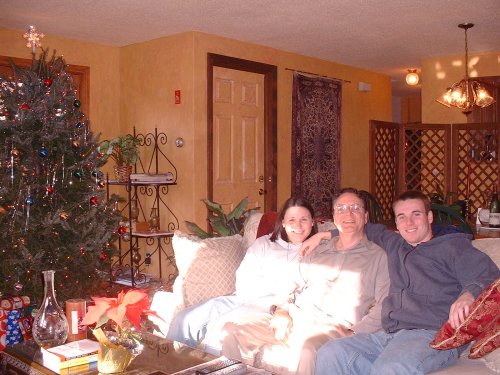 I was told I had one shot to get this picture and then the natives would revolt at anymore picture taking. You have to bear up under the pressure at times like this...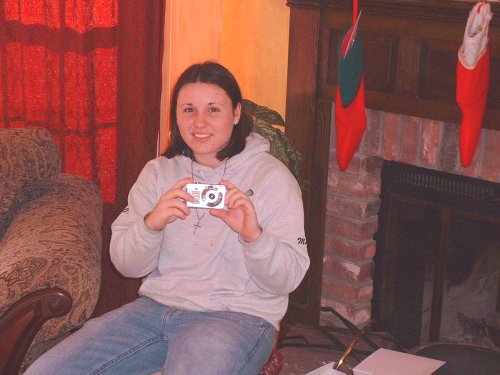 Marissa salivating over my gift to her: a new Sony 7.2 megapixel digital camera. This thing could be used to shoot the next epic movie its got so much juice.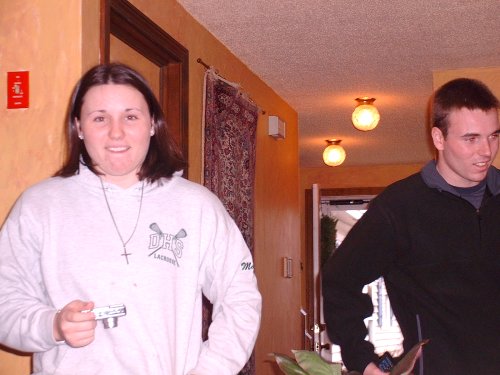 Marissa returning after going on a picture shooting expedition around the condo.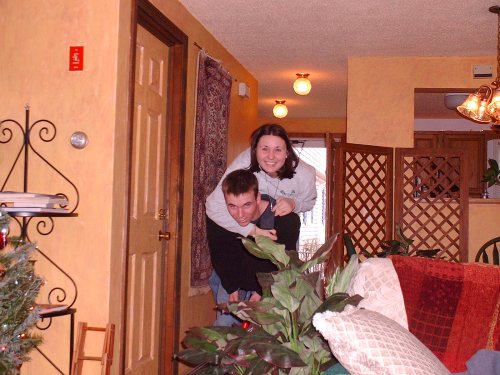 Returning from another picture taking episode - don't they just look like best of friends. Ah... if you only see them off camera...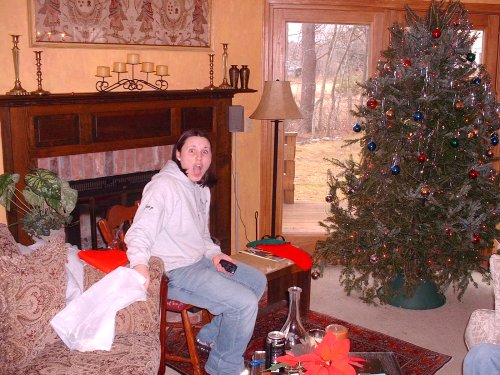 Marissa a little overwhelmed at opening my last gift to her which was a 1 gig memory card for her new camera. Now she can almost shoot her own movie...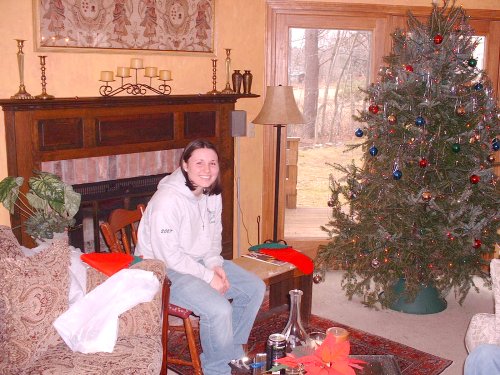 Is that the look of contentment, or what?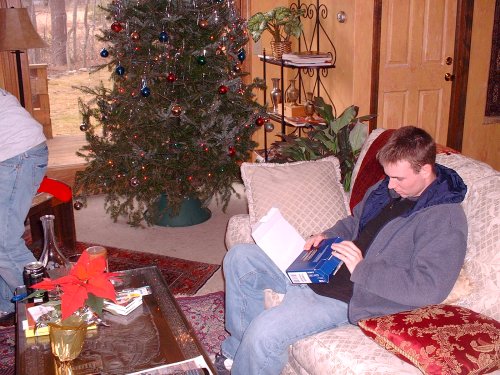 Colin reading some of the features of Marissa's new camera.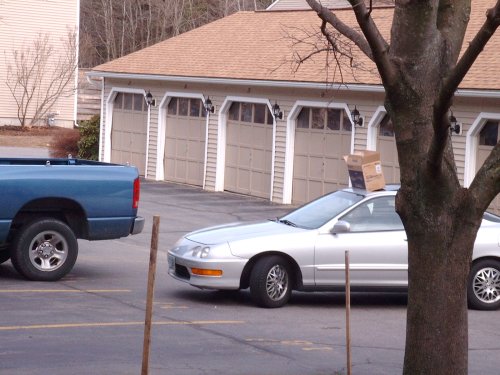 The kids heading off for the day with some of the paper and boxes from the presents piled on top of the car; Colin's idea of efficient delivery around the corner to the dumpster instead of just walking it over there.
---
Back to Family Home Page | Back to Peter's Home Page