---
Back to Peter's Thoughts On Backgammon Page | Back to Peter's Home Page | Back to Family Home Page
The Great 2006 4th of July Backgammon Tournament And Chinese Pork and Bamboo Shoots Stir Fry Fireworks
---
Despite the fact that Summer is a busy time for everyone - including me - I still have to have a backgammon party to celebrate the 4th of July! I had planned on fixing Chinese pork and bamboo shoots stir fry, but it had been so humid and muggy for several days that I changed the menu to take out pizza at Marissa's request - ah, the wisdom of a 17 year old daughter.




That also gave me more time to play. Wild games, too. The dice were both kind and unkind to each of us back and forth all night. After awhile, it got silly - and so did we. Some of the rolls were really frustrating. As evidenced by the above picture - which you will have to scroll down to get the full story on... but it has something to do with an eight point cube.

Tim House brought over an interesting cracker dip called taboule. I had never heard of it, but it's a great Mediterranean combination of hard wheat semolina, tomatoes, green pepper, chick peas, onions, a touch of mint, olive oil, and lemon juice all mixed up into a really nice dip. We used that to somewhat justify the pizza. That works, right?

And, the pizza was excellent; no guilt there at all. The movie of the night was Annapolis, which Marissa had seen and assured us we would like; just what we needed to top off the night.
---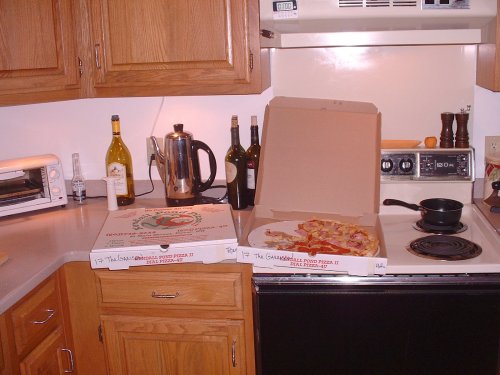 Ah, yes... the pizza. Marissa and her friend Sarah, though they were too busy swimming and watching their own movies and didn't participate in the backgammon, did manage to take their fair share of pizza. We ate some pizza...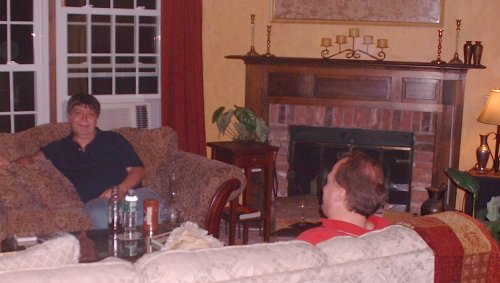 Rick Downs and Tim House relaxing between beatings.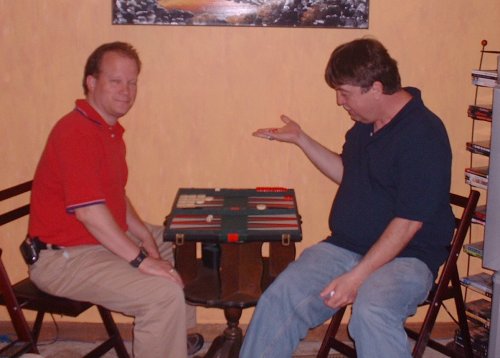 Rick trying to explain to Tim about his "magic throw", or something like that.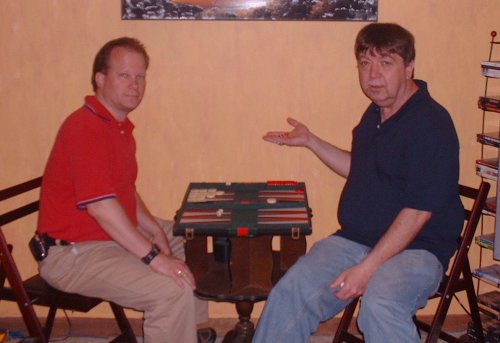 Obviously, Tim is not buying into Rick's rap - though it was long, rambling, and even began to make sense after awhile and did manage to confuse both of us a few times to run us off the board. But not enough...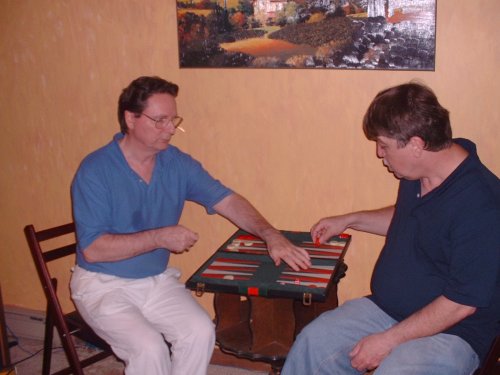 I believe I was trying to explain to Rick here about how I was going to kick his ass. But as you can see, he's just ignoring the whole thing and getting ready to move his checker onto my checker to send it to the bar, where I danced through about 4 throws trying to re-enter. The game had got so annimated that I dumped part of my beer on my shirt and pants. Very professional of me, don't you think?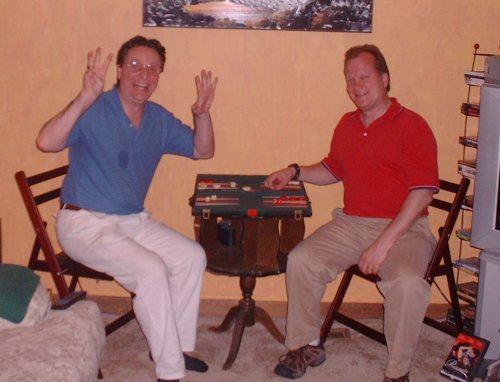 I am saying here to Tim, "It's for an eight cube and when I beat you with that high of a cube they'll need ropes and a hook to get you down!" And I did get him with an eight! But, he came back and just swamped me with a double cube to pull back a little.
---
Back to Peter's Thoughts On Backgammon Page | Back to Peter's Home Page | Back to Family Home Page