---
Back to Peter's Thoughts On Backgammon Page | Back to Peter's Home Page | Back to Family Home Page
The Great 2006 Two Years At The Garrison Backgammon Tournament And Spaghetti Bolognese Celebration 06/10/06
---
It's hard to believe that I've been at The Garrison for 2 years now, but that's what it has been. So, what better way to celebrate than have a backgammon dinner party!




Friday was Marissa's 17th birthday and she was supposed to have had a party with about 10 of her friends down at her mom's so I had planned to do all the cooking for the party Friday night. Though she had to reschedule the party because of the downpours we have had for the last week, her mom and grandparents took her and her brother Colin out to dinner. So, I was still on schedule to cook.

I wanted to cook the night before anyway because I wanted to be able to play a lot of backgammon. I fixed spaghetti Bolognese and that takes an hour and a half to just get in the pot and then I wanted to let it simmer for a couple of hours and then sit overnight and then just let gradually warm up for another 2 hours during the party. So, I had a grand time Friday night sipping several glasses of Shiraz as I chopped and stirred the sauce. I got so busy, I forgot to eat. By all accounts, I should have had the swirrlies drinking all that wine on an empty stomach, but it was over such a long period of time that I was fine and up early Saturday morning with no problem.
---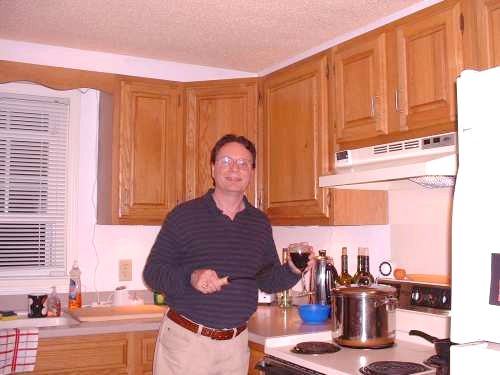 Finishing up preparing the sauce Friday night. I got a late start because I lost track of time and didn't get out the door to go shopping until very late afternoon. By the time I got back on the Spaulding Turnpike to head home, weekend traffic frenzy time was in full swing and it took me for every to get across the General Sullivan Bridge and past the toll booth to head North and get back. That's why I guess I blanked on having dinner: I was on a mission to chop stuff and get on with it! As you can see here, it must have been a success because the place is all cleaned up and I'm still standing with a glass of wine to go! I'm ready.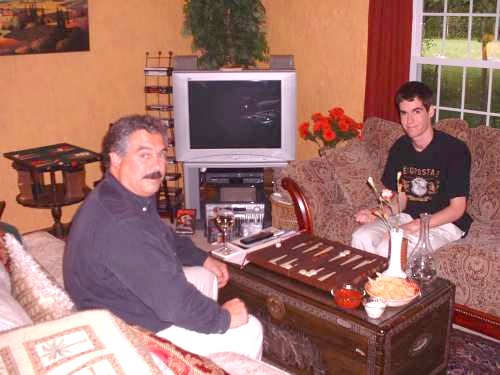 Scott Williams battles it out with Cam. Scott had "bring the chips and dip" duty, so when he arrived, first round game pairs had already been selected and the games were under way. He was put in charge of getting all that stuff out and placed next to the other stuff I had already done before he could start playing. He and Cam had what must have been a couple of interesting games, because this was only one of two or three smiles I saw coming from him for most of their encounters - you had to win 2 points to win the match and pick up a new partner and I think it took these guys 3 games to determine a winner.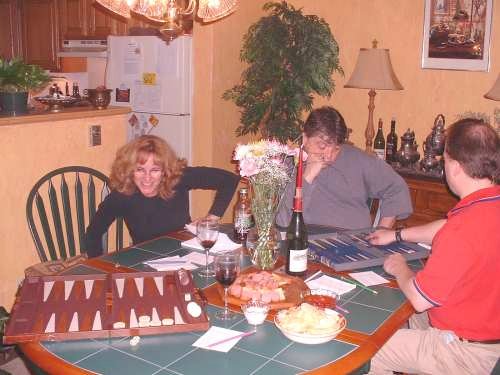 Sherrie disrupting everyone again! You can see Rick Downs and Tim House trying to concentrate on their game. But no, Sherrie was flinging her dice all over the place trying to get back at me for a hot throw and she lost them under the table somewhere. So, down on the floor on hands and knees she goes hunting for the dice. I had no sympathy because she was hammering me pretty good, so we just left her crawling around on the floor until she found them. Didn't do any good because she won that game and the match. Next time she drops her dice and she's down there like that I'm just going to slam the board on her head and see if that can give me a little vig to my game.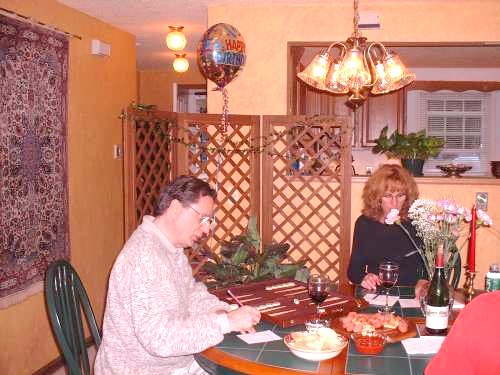 You can see I have no humor as I score up my loss; Sherrie's trying to look consoling but I know better. I'm not sure, but I think she even stuck her tounge out at me because of all the bad talk I was throwing at her. We butted heads a couple of times later and I think I only pulled 1 or 2 points out of 6 or so played. This is not good.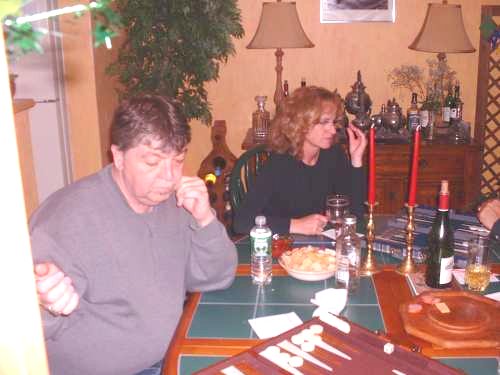 Rick Downs readies a max throw. His dice were so hot, he even topped Sherrie's score - not counting the extra two points she claimed for herself for doing the dishes. Come on, Sherrie: really... Maybe because Rick was so hot tonight that will distract Sherrie next time. Bring a club, Sherrie: Rick is waiting for you... he just couldn't miss.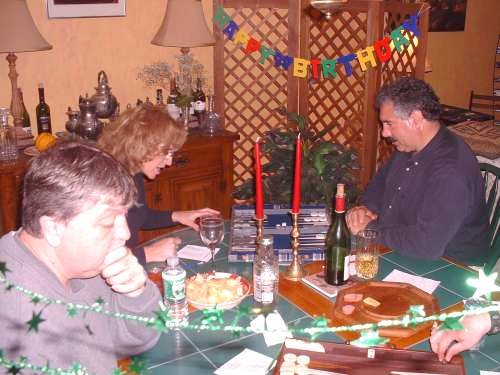 Rick thinking about swallowing the dice? Hardly. Maybe his opponent, but not the dice. Oh, and look whos turn it is to get humiliated by Sherrie... Scott's gonna be wanting to look her up next time as well. The green lanyard hanning across the picture in the foreground is one of my little gifts for Marissa's birthday.

Cam watching over Scott's play as Tim House and I fight it out in the foreground.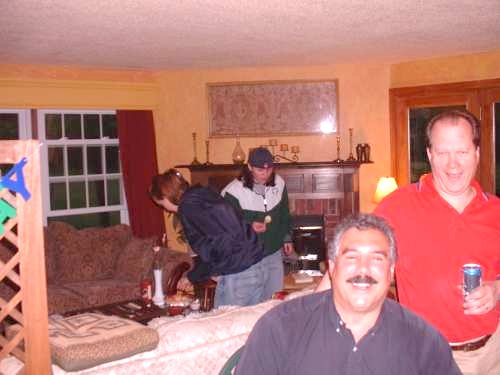 The birthday girl Marissa and her friend Ashley stealing goodies off the living room game table while Tim House is too busy smiling for the camera with Scott Williams. There's food at stake, guys, and hungry scavenging teen age girls lurking in the background to take advantage of any lapse in security! Good going, Tim...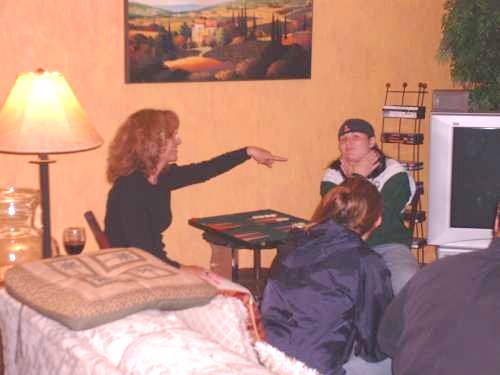 It appears that Sherrie can not only throw some mean dice, but she can choke out her opponent from across the board, as it appears is what is happening to Marissa here.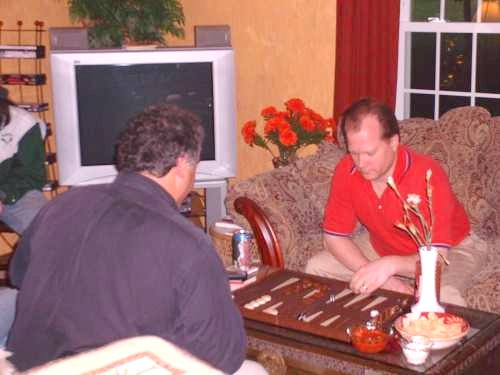 Scott Williams and Tim House going at it on one of the game boards in the living room.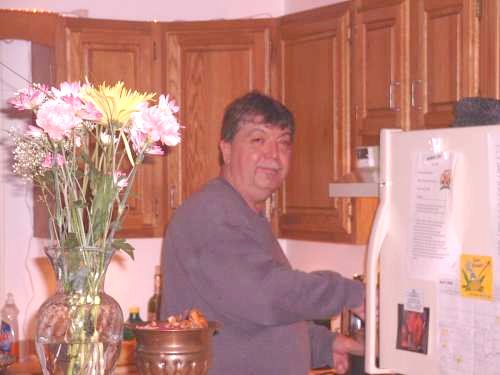 Rick Downs was really hungry so I gave him the task of keeping the Bolognese sauce stirred to tease him. This was to distract him from his game, but quite frankly with his hot dice, the only thing that could have distracted him tonight would have been a brick.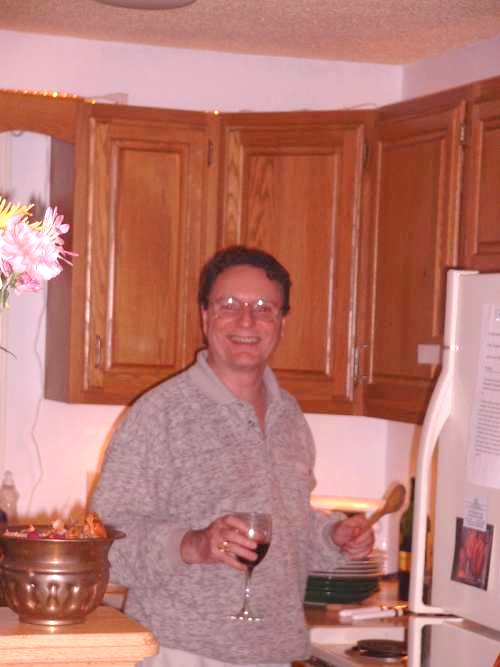 Finally, I announce that the sauce is ready and the stampeed began shortly after this shot. It turned out great, however, and everyone had their fill.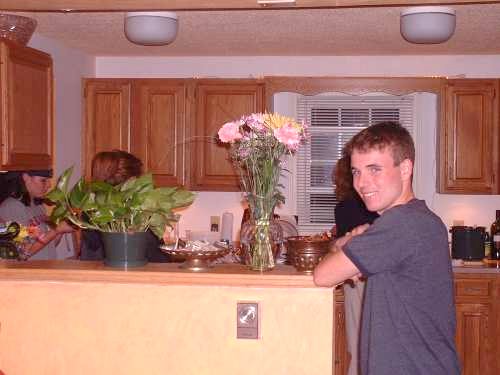 Colin waiting to pounce on the food. I think he wore himself out yelling at Rick and Tim because he didn't stay over for the movie. Then again, maybe he had no interest in the infantile movie Underworld that the rest of us thought was an excellent way to wrap up the night.
---
Back to Peter's Thoughts On Backgammon Page | Back to Peter's Home Page | Back to Family Home Page