After a lot of research and study, I had determined that I wanted a Tuscan villa look to my condo decore. My plans are to faux finish the walls in the living and dining rooms and entryway hall. Everything is currently white and very contemporary. Have to change that. Change my life, might as well go all the way...

Since ceilings should be done first, I had a friend come in and paint the whole downstairs area for me in a color tone selected by my friend Linda Williams. A few weeks ago, she and her husband Scott - one of my black belt karate students of many years - came over for dinner and to see my new place. We got into the Pinot Grigio and I piked her brain about colors and faux finishes. Linda has a Master's in Interior Design and teach art so I didn't argue with her when she suggested a color for the ceilings. Two rules: don't argue with a woman, and particularly don't argue with a woman who knows more than you do about something. And I really wasn't all that sure about that color she selected, but as you'll see, things came out really nice.

This is a view of the condo entrance tucked away from all the normal noise and activity most condos can have.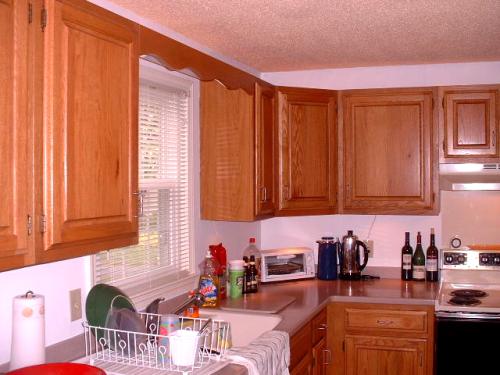 As you come in the front entrance, the kitchen is to the left.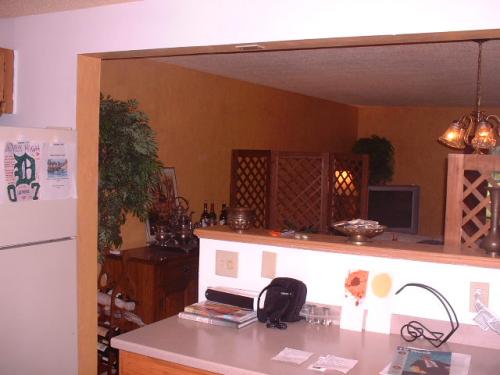 Sweeping the view to the right shows the open concept between kitchen and dining/living room areas.

The "chef" hard at work. Note the glass of Pinot Grigio at the ready! Preparing for the "The Great 2004 Labor Day Spaghetti Feed And Backgammon Tournament". Select this link to read all about it and see some pictures.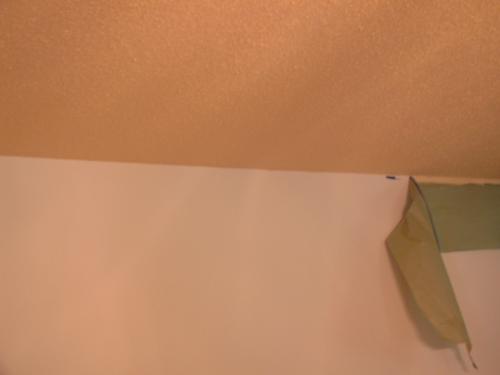 Amazing how the color Linda suggested just really warms the rooms up so much even with the white walls! They came out beautifully.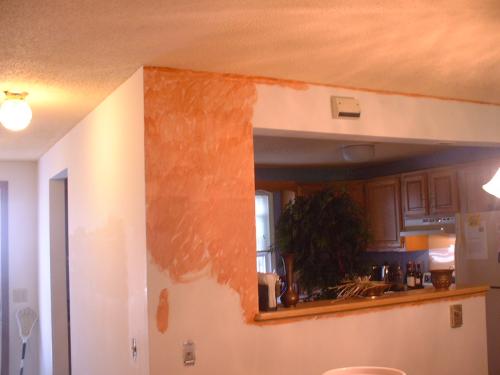 I had gone over to Scott and Linda's for dinner a couple of weeks ago to get a heads up on how to do a faux finish and to work with some paint samples that Linda had to pick the exact colors. My first wash-on coat was supposed to have been a rich sienna cut 50% with water. I am not a color person by any stretch of the imagination, but after several hours of work today I wasn't seeing the sienna base that I had expected. Here is a picture of the start of the first coat application. It was more of a brick-rust; very pretty, but far from sienna. But I pressed on and finally shut down after over 11 hours of work. Marissa had spent the day helping me tape and actually did the entryway all by herself.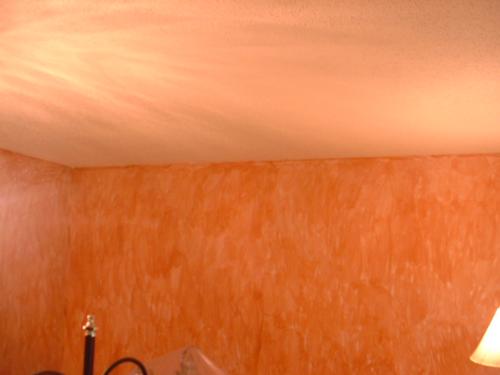 I was so wound up about this unexpected brick-rust base color that I got up at 3am to go down and check it out; just couldn't sleep. Well, it looked great but it was really red so I wonder how the second wash on - which is a rich Tuscan mustard-gold - will look over that. Anyway, up early and tested a small area area with a 50% cut of the mustard-gold and it was h-o-r-r-a-b-l-e. It looked like mud. It was awful! I got all pissed off and complained about the whole "red" look to the rooms, but Marissa thougth they looked really good. Well, the work was really good, but I was totally disappointed about the color. So I stormed out of the house threatening to return with a couple of gallons of white paint and start over. But when I got back, I thought I'd try washing-on the mustard-gold full strength rather than cutting it and if that didn't work then I'd just cover everything with the mustard-gold as a new base and then wash-on the brick-rust as the second application. I did a large section with the full strength mustard-gold and it looked really nice; exactly the "old feel&quo; look I was looking for. Unfortunately, because of the full strength application, I was only able to cover 4' of wall per hour vs the over 6' with the half cut finish. I worked until I was sick of it and then took Marissa to dinner, rented a couple of movies, and just "vegged out" for the evening.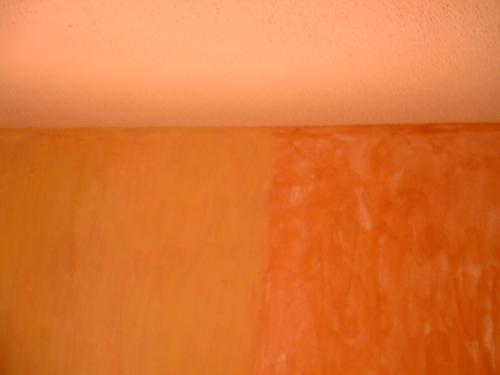 As it turns out, the full strength mustard-gold effect on top of the brick-rust was stunning! And I mean: stunning. Unbelievable! I didn't get too far yesterday; just the half separator wall between the kitchen and dining rooms and just short of half way down the long wall of the living room. Here's an in process shot of the work so far.

It's been a long haul, but I finished up with the living and dining room and entryway hall walls today; the last 4 hour effort. Over the weeks, I have been gathering accessories and placing them appropriately hoping when the walls were done that it would all "work". It did. It all came together fantastically. This is a view toward the entryway hall.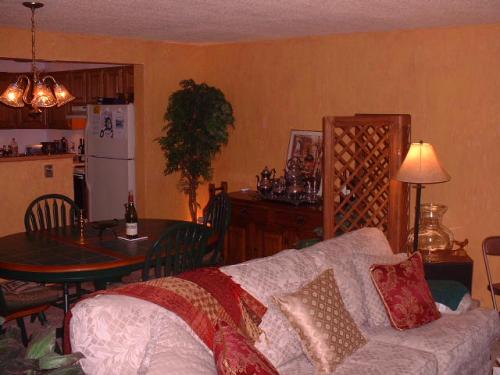 Sweeping right, this picture shows the other corner by the kitchen walkway.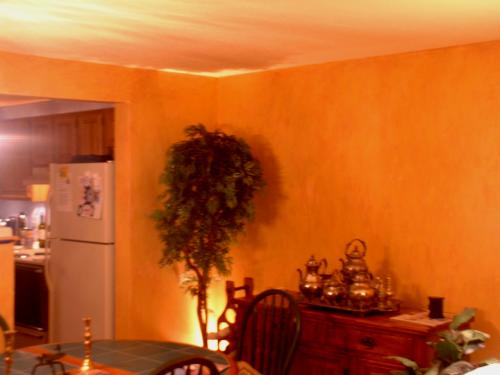 Here is another picture of that same view in a little different light and showing the way the wall looked with just the rust base coat, i.e. this is before the application of the second wash-on with the mustard/gold.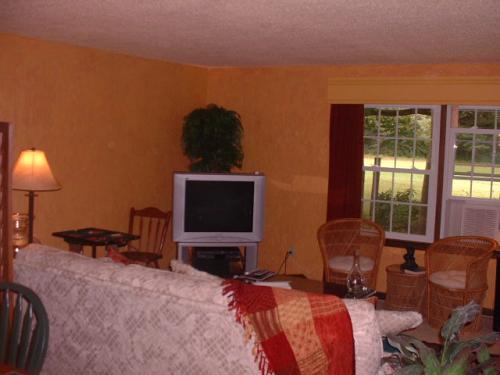 Continuing the sweep right, this is the opposite left corner of the living room. I'm a huge TV fan so Bruce Vinciguerra of Tony's Television in Portsmouth, NH set me up with a great 32" Panasonic flat screen.

I fell in love with the unit the minute I saw this great fireplace and mantel!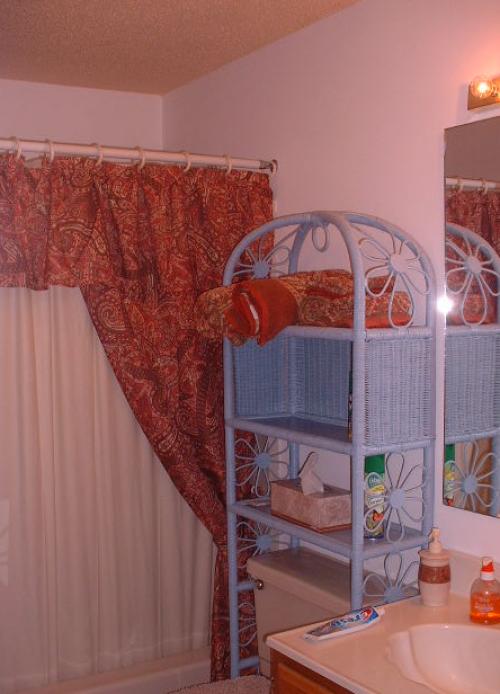 My starting goal for my decorating project was to get the dining and living rooms up to guest quality. This included getting the downstairs bathroom ship shape as well. Not sure of exactly how I wanted this to be decorated, I opted for this warm and inviting look. Who knows; I may leave it this way for awhile...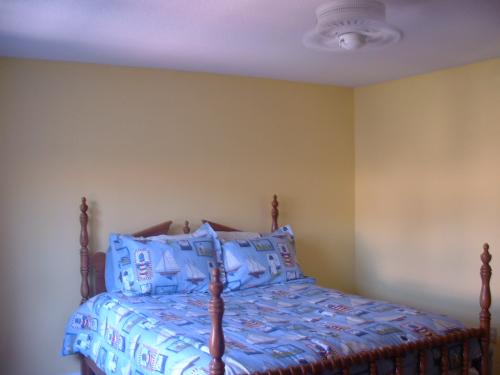 Marissa had decided that she wanted to decorate the guest bedroom. She wanted to do a Beach House type look, and had picked out a beautiful soft yellow for the walls. She spent all weekend working up there and here is a picture of her efforts. She did a fantastic job. It took 4 coats to cover the existing harsh colors, and she put 2 coats of white on all the dark wood trim. The room is really bright and airy. She picked out the bedspread as well. Good going, Ris!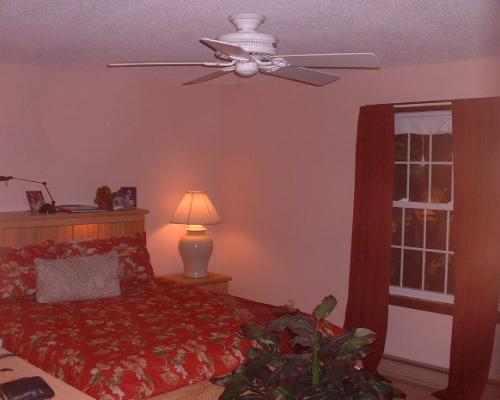 In addition, during this time I started work on the master bedroom as well. Both are looking good and have a warm inviting feeling to them. I'm very happy with the way things are coming along.
---
Back to Rose family home page