---

For this year's events from January to now, see this year's archive page

Pitiful Disclaimer....
I'm sorry, but many times I get far behind in creating and posting the detail page and corresponding pictures that go along with an event entry. Bear with me as I try to keep up with these postings....
04/01/17: April Fools Blizzard


What a storm on the mountain Thursday 03/30 night and into Friday 03/31! It was beautiful. A real April Fools blizzard with about a foot of snow dropped on the mountain.




I spent a couple hours snow blowing and shoveling Saturday morning, and pretty much ached all over that night. After comining in, a hot shower, and some advil I was all set, though stiff for sure.

But a little wine while cooking dinner — an off-the-cuff fresh rosemary, balsamic vinegar, scallion chicken dish with side of sauteed carrots, sweet red pepper, green peas, and onion in thyme served over rice cooked in fresh Italian Parsley — I was feeling pretty good.....
04/06/17: Rose School of Karate First Class New Durham


Though only having officially moved into our new home in New Durham, NH 04/01/17, I held my first Rose School of Karate class Thursday 04/06/17 out in the barn.




Because of awful weather on the mountain, I was the only one attending. But that's fine. I ran all 10 of our karate forms, and capped it off with Rose Crane Spreading Wings at the Break of Dawn. It was a good class.
04/08/17: Family Visits


Sue's brother Alan and his wife Joann came by Saturday afternoon to see the house for the first time. We had a nice visit with them, and were so happy that they stopped by to see us.




While Sue took them on an extended tour of the house, barn, and grounds, I started some preliminary food prep work in the kitchen as we were having Colin and Ren over for dinner.

Though the weather was relatively mild, I got a fire going in the wood stove. But by the time Colin and Ren came, it was so hot in the house that I greeted them with, "No, there no old f'n people living here!" They thought that was hysterical....
04/12/17: Happy 30th Birthday, Colin!


To celebrate Colin's 30th birthday, Sue and I took him and Ren out for dinner at his choice of The 99 Restaurant in Dover, NH.

We had such a great relaxing time. It was so nice to spend a couple of hours with them, catching up on everything going on in their lives.
04/16/17: Easter


We had planned to drive up to celebrate Easter with Sue's neice Tracy and the family in Ossipee, NH. But Sue's cold that had just been a minor irritation the last few days became a really bad cold last night.

So, it was a quite day on the mountain for us. The sun was so warm, and with a light rain last night there were so many terrific smells of Spring in the air, that Sue just couldn't resist. I got a lawn chair out of the barn for her, and after a short, slow walk around to see some of the flower buds just begining to open, she sat outside for awhile.

Sue had taken this picture at the top of the ridge on Friday of Mount Washington still snowcapped.




Marissa got some good pictures of Mia Easter Sunday, one in particular with Colin and Ren: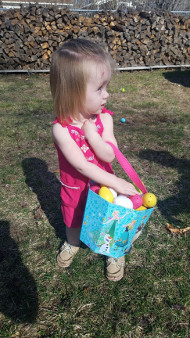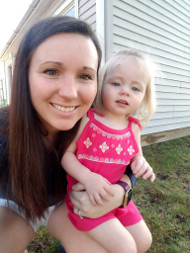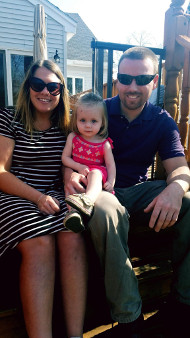 04/18/17: First Date Anneversary and Both Sick!


Sue had not only picked up a bad cold and sinus infection, but she passed the cold on to me!




Though both of us were not feeling our best, I fixed a special dinner and got a fire going in the wood stove to celebrate our 7th first date anneversary.

We weathered through it just fine, though slowly and with little fan-fare....
04/22/17: Colin Transfers Trundle Day Bed


Sue and I had bought a trundle day bed awhile ago for the new house. Colin had been nice enough to haul it over to his house to store it for us.

He picked me up today, Sunday 4/22, we drove to his house in Somersworth, loaded the day bed onto a truck he had borrowed from his friend, and then carted it over here. Though I didn't at first think we'd be able to get it around and over the wrought iron railings and up the stairs, Colin muscled it around until he succeeded.

After he put it together, he drove Sue and I down to the Lowes Home Center in Rochester. We had seen a 3 burner outside gas grill there a couple of weekends ago. Not wanting to have to buy it in pieces and have to assemble it, and at the time not having any way to get an assembled one home, we just kept it in the back of our minds. Colin and the truck were just what we needed!
04/26/17: Fog on the Mountain


It's been a wet and very foggy few days up here on the mountain. Maybe because of that, however, when the fog did clear a couple of deer come out of the woods, a herd of turkeys swooped through the yard and scrambled across the road, and I finally saw our resident porcupine, "Hugh Pine" waddle along the stone wall.




Sue also got this spectacular picture of a still very snow capped Mount Washington, over 80 miles away:



04/30/17: Gale and Sue Work on Flower Planting


Sue's friend Gale came over Sunday 04/30/17 to help organize and start the planting of different flowers around the yard.

She had brought a bottle of Cabernet that we enjoyed with a dinner I fixed while the girls were in the living room chatting.
05/10/17: Wishing Ren Surgery Success


Sue took this selfie of us on Wednesday 05/10/17 to wish Ren success in her surgery down in New York.



05/13/17: First Grass Cut by City Boy!


Look.... it's been about 14 years now since I've had to cut grass.

I had looked at this with some trepidation because our new home sits on 2.7 acres, much of which is open grass.

The former owner, Carl, came over at 9:00am to give me the operating instructions for the Cub Cadet riding lawn mower that I had bought from him.

Not too complex, and it wasn't long before I was in the seat tear-assing around the lawn.




And the results weren't bad for a city-boy who'd never cut more than a normal size yard or even been up close to a riding mower.



05/14/17: Mother's Day Dinner for Sue


Well, Mother's Day got off to a great start with Sue playing in the puddles in her new garden boots....




Sue had been down to visit with her daughter, Jill, in Westerly, RI last weekend for a pre-Mother's Day, and then had a pre-Mother's Day lunch with her son Lucas Saturday.

To further her celebration for having such great kids, for dinner Sunday evening, I cooked up a special Scallops Wrapped in Prosciutto on a bed of Belgian Endive, Radicchio, and Red Cabbage, with a marvelous bottle of William Hill Cabernet.
05/16/17: New Wood Stove


Bob from Top of the Ridge Chimney Service delivered and installed our new Jotul F 500 Oslo wood stove.




This is going to be a terrific stove for us. It's rated at 70,000 BTU/hr, and should lay out a nice, even tempered heat to overcome some of the older and more drafty original windows in the house.

Thanks so much to Bob for finding the stove for us, and walking us through all the pros and cons of either keeping our Lodi Leyden or investing in a new and more up-to-date stove.
05/18/17: Garrison Condo Sold


Sue and I drove down to Portsmouth, NH Thursday morning, and met up with Tom Toye of Arthur Thomas Properties, our friend and real estate agent, at 10:00am for the closing on the sale of our condo in Dover.

After the closing, we drove into downtown Portsmouth to meet up with Tom's wife Nicole at the Durbar Himalayan restaurant for a celebration lunch. What a great meal that was! First time for Tom and Nicole, second for Sue and I, though we had gone many times to the owner's former restaurant, Cafe Mo Mo in Manchester, NH.

Because we had such a huge, wonderful lunch, we decided not to go out to dinner, but to rather stay in, play some backgammon, have a light salad for dinner, and watch a movie.

Well, because I was really in the mood for Wall Street, Sue was a good enough sport to watch it with me. For what must be the third time for her. But she says she enjoys it, even though high drama finance is not her most favorite thing. It is probably my favorite movie.
---
Website design by Peter Rose, zzrose@yahoo.com