Ship's Log of Linnet's Wings
for the sailing year 2002
---
Log Entries For The Months Of:


---




January

01/01/02 - Tuesday
0830 - Great Bay Marine, Newington, NH on winter jack-stands
Happy New Year! Before getting roped into pulling all of the Christmas decorations down, Colin and I - on the pretense of making a coffee run for Pat - swung by Great Bay Marine to check on Linnet's Wings.

She sat proud in her saddle. We got out and walked around and gave her a gentle pat on the side.

---




01/12/02 - Saturday
0300 - Great Bay Marine, Newington, NH on winter jack-stands
Colin and I swung by to pump the bilge and see about getting the tarps out to cover Linnet's Wings up for the winter. We are expecting a snow storm later this weekend, and this is a good opportunity to wrap her up.

Our finished product may alter the way boat covering is done on the East Coast; it is a multi-color, multi-cover eclectic approach to vessel protection...

---




February

02/10/02 - Sunday
0300 - Great Bay Marine, Newington, NH on winter jack-stands
I drove Colin over to Linnet's Wings last weekend and he had a heck of a time getting the hatch open: the tarp had frozen to the cabin top and hatch cover. Winter in New England...

Here she sits---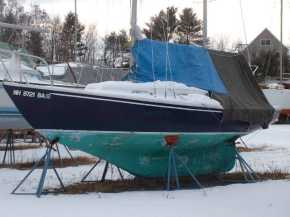 ---




March

03/30/02 - Saturday
1100 - Great Bay Marine, Newington, NH on winter jack-stands
Colin and I did a quick "drive-by" to check up on Linnet's Wings. The last storm seems to have torn the plastic winter tarp from its brackets and pulled it back from its overlap with the canvas tarp. Since we will be starting work on the bottom and doing Spring rigging fairly soon, we will just leave things as they are. We don't anticipate any more snow. But then around here...

We then drove down to West Marine in Portsmouth to check out bottom paint, sandpaper, and fiberglass stuff. Seems there is a 50% off sale on brand bottom paint next weekend so guess what I will be getting next weekend...

---




April

04/14/02 - Sunday
1100 - Great Bay Marine, Newington, NH on winter jack-stands
I decided that it would be a good idea swing by Linnet's Wings and take another look at the upcoming "scrape and paint" ordeal. We met a man working on his boat; he was sanding the hull in preparation for painting, so we ask a lot of questions as to his experience as this was his 3rd year doing this. Seems pretty straight forward.

As we headed off, Colin wanted to drive. So, I agreed to let him drive down to the marina parking lot and then back up. On the way, we saw some friends working on their power boat. Pat had worked with Sheryl until she had recently moved to another company, so it was good seeing her and her husband Eric.

Eric was absolutly covered in sandpaper and paint dust. He had spent all day sanding the bottom of his boat and his arms were aching! But he had to take the paint all the way off and get down to the gel coat; not an easy task. Colin and I marveled at his progress and were quite pleased that we were not faced with a similar effort.

I don't know when we are going to be able to launch Linnet's Wings. The mechanics are having a hard time getting Colin's electrical system on Snow Day's engine working properly. And until that is done and the boat brought back to the house, Colin can't paint the top deck and bottom of his boat. And until he finishes that, he won't start to work on Linnet's Wings. And until he gets the work done on his boat and gets it launched, he can't get our moorings put back in nor can he act as a "crash boat" for me as I bring Linnet's Wings home under power of my new engine- which I can't get until Colin's boat is done because Gary is going to just send it down with the boat. This is a mess! It may be Memorial Day before we can get all this sorted out. I may just get Linnet's Wings in the water and then have to pull her out for the season!!! Yikes!

---




May

05/05/02 - Sunday
1100 - Great Bay Marine, Newington, NH on winter jack-stands
We caught a couple of days of really nice weather, and Colin finally got over to Linnet's Wings. In no time, he got the bottom all cleaned and painted. Like most things you do with a boat, the prep work is the longest and most frustrating. I was amazed that he got the whole thing done. Great job. Only issue is there remain 4 bare spots where the jack stand pads are— but whatareyagonnado...

---




05/11/02 - Saturday
1100 - Great Bay Marine, Newington, NH on winter jack-stands
While the weather is nice, Colin wanted to get over to Linnet's Wings and do some work; weather reports for the weekend (Mother's Day) was for rain into mid week. So I dropped him off and swung back to the house to get some things done.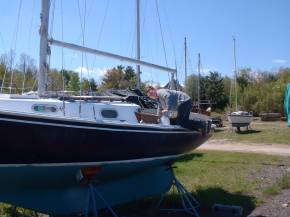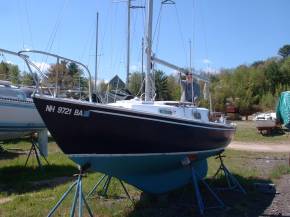 When I pulled up to get him, I was totally surprised to see that he had stripped off the old peeling waterline and replaced it with a brand new 2" strip! It is truly a thing of beauty!
---




05/18/02 - Saturday
1100 - Great Bay Marine, Newington, NH on winter jack-stands
It's snowing! Just amazing! We took a trip over to see if the boat yard had moved the jack stands so Colin could finish his painting of the hull, and it started to snow!!

It had been raining for a couple of days and so Colin went below to mark any leaks — there were just a few around where the stays come through the deck, and around the mast deck yoke. Nothing major; we'll get some gunk and seal them up.

---




05/27/02 - Monday
1100 - Great Bay Marine, Newington, NH on winter jack-stands
Memorial Day and Colin and I went over to Linnet's Wings to drop off the cabin cushions and put out the dock lines for this week's launching. I can hardly wait!

And today would have been a great day to be out: the wind was howling and kicking up some great chop. I watched Colin chasing waves all day in Snow Day and finally couldn't take it anymore and had him come to the dock to pick me up.

We went up to Gary's house of Dover Marine and saw him standing on his dock so we went over. After talking with him, I think I'm going to pass on the 15hp and go with a lighter 9.9hp he says he has in stock (used). He said the 15hp was almost as heavy as Colin's 20hp Mariner. I can just barely drag that engine across the ground; way too heavy for Linnet's Wings. Gary says the 9.9hp is light enough to pick up with one hand. Should be strong enough to power me though all but the worst currents around here. He said if it didn't work out, we could just swap it out with a 15hp later. So I'll take a run with it.

The trick now is to get it on the boat before Thursday when Great Bay Marine puts it in the water. Or, I suppose I can just haul it over there Saturday when I pick the boat up. Have to play this all out by feel...

---




05/29/02 - Wensday
1100 - Great Bay Marine, Newington, NH on winter jack-stands
New engine! Well, Colin drove his boat down to Gary's dock as he had some repairs to do on his engine. When he came back home, he had a used 15hp 2 stroke Evenrude for me! Gary was going to get me a 9.9hp, but he found this 15hp and there you have it.

Of course Colin had to immediataely strap it onto Marissa's 14' The Wet One and take if for a "test drive". Damn if the thing doesn't look like a cigarette boat from the distance throwing a real rooster tail in the air! Colin didn't want to come in for dinner he was having such a good time! I think that will work just fine on Linnet's Wings...

---




05/31/02 - Friday
0800 - Pomeroy Cove, Dover, NH
On the mooring at last! Pat had called me late Thursday afternoon on my cell phone as I was navigating through MA Route 128 traffic to tell me that she had gone over to Linnet's Wings with Colin in Snow Day to help install my new 15hp 2 stroke engine. They had completed their task and were relaxing in the cockpit. I was, of course, very jealous of the situation, but was on my way to teach Karate class in Portsmouth.

So today, I got home early from work so that Colin and I could go over to Great Bay Marine and pick Linnet's Wings up from the temporary mooring they had put her on last night after launching her. But as we were getting ready to leave the dock in Colin's boat, the sky became very threatening.

We waited a few minutes to see if it would clear, but it didn't. In fact, the wind picked up to over 30 mph and we were enveloped in a dark shroud. We raced inside and started pulling electrical appliances just as the torrential downpour hit. It was spectacular and lasted for about a half hour!

It started to clear and the wind subsided. So, we headed back out onto the dock to take another run at it. But Colin's bilge pump was not working and he didn't want to leave the dock until he had a chance to look it over. By the time he got it fixed, another front closed in. We headed back to the house because this one looked even darker and more foreboding than the first did.

We got hit again; this time even harder. The lights went out for about 20 minutes as the storm raged around us. The rain was so heavy that even with the strong winds, visibility was minimal. After about 30 minutes things began to settle down and the power came back on. We had dinner and sat and watched the stom wind down. I checked the weather reports and they had a Severe Storm Warning posted until 7:30pm- and it was just 7:30 and the sky was clearing to the extent that the sun was actually out!

Back into Colin's boat we jumped and headed out. But we were met with constant rain all the way over. We pressed on but when we got to Great Bay Marine, Linnet's Wings was not on the mooring it had been! Colin couldn't believe it despite my statements that it probably had to be moved to another mooring for some reason.

We searched through the moorage and finally located her at the far Southern end. We were within 30 minutes of losing the sun so we had no time to waste. The new engine fired right up, I cast off the mooring line, and we were off! The engine pushed Linnet's Wings along at a really nice clip on the outgoing tide and we made excellent time under the General Sullivan Bridge and into the Pomeroy Cove moorage area.

Colin led the way to the mooring and handed the mooring line to me as I edged up to him. But I couldn't get forward fast enough with the line. Linnet's Wings turned broadside to the outgoing current, and it was too much to hang on so I let go and spun around for another run. This time success! We snugged her down and then Colin took me over for a quick visit with Neal over at his Ming boat. Then we headed in to the dock just as the sun was setting. A beautiful sunset after a great trip back in the rain with Linnet's Wings.

Colin will go out tomorrow for a little work on Linnet's Wings, and maybe Sunday we can clean her up for the season.

---




June

06/16/02 - Sunday
All Day - In The House, Dover, NH
It may never stop raining! It has rained now for days. It has been cold - down in low 50's at night. It has rained pretty much on and off since my last log entry. Talk about getting "cabin fever"!

And today is my 53rd birthday and all I can do is look out the window through the rainy mist at Linnet's Wings. At least I had a chance this week to get together with my friend Dan who just bought a boat with a mooring in Rockland Harbor, ME. We have finally set some time aside to go cruising in Penobscot Bay this summer. And we have agreed that rain, shine, fog- anything short of full hurricane we would go up. If it's too tough to sail, we'll hold up below drinking beer and playing backgammon and poker. We-don't-care...

---




06/30/02 - Sunday
0200 - Pomeroy Cove, Dover, NH
It actually stopped raining! It's true! The rain has finally stopped. Well, for a couple of days, anyway. Friday we had such bad thunder storms that the garage flooded- a very rare occurance. But Saturday was beautiful and today is a true gem. A beautiful day.

So I got Colin to take me out to Linnet's Wings and I spent an enjoyable couple of hours re-varnishing all of the topside wood. Breezes were brisk and that combined with a lot of boat traffic made for a nice chop to roll in as I worked away. The sun was bright, but it was not hot because of the breeze. But I did get a bit of a suntan because there were few clouds and no protection on deck.

It was so good to get aboard! I just loved it. Neal was over on Ming getting ready to head out tomorrow for Newburyport, MA for some repairs and a new paint job; he will be gone now for most of the summer. So, when I finished up with my work Colin took me over and he and I sat in Ming's cockpit and had a nice chat.

Pat had found a huge steak at the store so I invited Neal over for dinner. Colin picked us up, and we did a little tour up river. Beautiful day. We even ran into Gary from Dover Marine helping his dad moor his boat. So we chatted briefly with them and then headed to the house.

While I cooked the steak on the grill, Neal and I sat in the backyard and watched the river traffic and told stories about Linnet's Wings and Ming. It was a great meal with corn and rice, and I relaxed with a couple of glasses of Cabernet. That's the way to top off a day! Only thing better might be to be doing all this in the cockpit- but sitting in the yard and looking out at Linnet's Wings settling in for the evening rolling gently in the bay swell of the outgoing tide is pretty nice, too.

---




July

07/05/02 - Friday
0300 - Pomeroy Cove, Dover, NH
Just putterin' around on the mooring... The sun is out, and it is a magnificant day! Unfortunately, I got tied up with some things around the house and got a late start to the "relaxing part" of the day and couldn't make it out for a sail.

Besides, I just got around to ordering my transducer for my depth gague that got whacked off last Fall in the engine prop, and with an outgoing tide I just wouldn't chance it. But I did get out on the boat to putter around with some things. Took some measurements in the engine well as I have figured out how to rig up a place for the transducer to sit until I can epoxy it on after the boat is pulled at the end of the season. Part should be in next week.

But fear not, I'll get some sailing in anyway because my friend Dan and I are sailing Penobscot Bay on his 30' sloop out of Rockland, ME next week for 4 days. It has been a long time since I have been up to sail Penobscot Bay — see my Rant Number 3: A Rant Concerning Going Sailing for the whole, long winded story...

---




07/21/02 - Sunday
0300 - Pomeroy Cove, Dover, NH
Finally got out for a sail!! The weather was just great and with a nice breeze blowing, Pat, Colin and I headed out to Linnet's Wings for our first sail of the season! Finally!

Marissa was more interested in putting around in The Wet One. So she drove us out to the boat and then picked Pat up after an hour or so and brought her back to shore as she had some stuff to get done.

We sailed out into the main channel and caught some of the chop; nothing much but enough for the first time out! All in all, a very nice and relaxing time. Colin steered for awhile, but he was more interested in gaping around at all the boat traffic. Marine Patrol and Coast Guard were out a lot as well; we saw them stop about half dozen people. Most were for general boat checks, but many got caught speeding under the General Sullivan Bridge. They "hide" behind the abuttment and just wait for some guy to come steaming through.

---




August

08/01/02 - Friday
0300 - Pomeroy Cove, Dover, NH
Colin brought Linnet's Wings into the dock for some electrical work and general maintenance and cleaning. He looks good in command of her, doesn't he!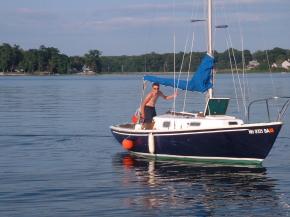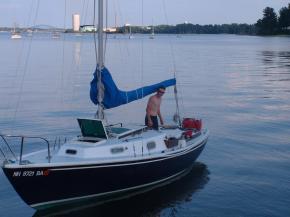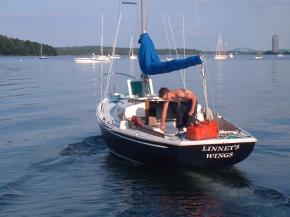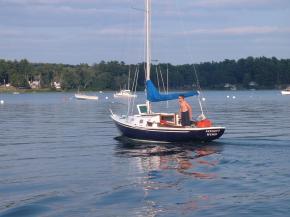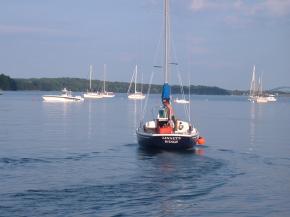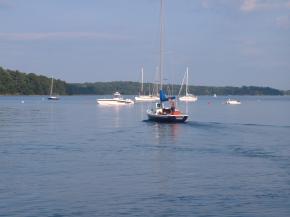 ---




08/04/02 - Sunday
0430 - Piscataqua River, Dover, NH
Nice breeze so we decided to head out for a late afternoon sail on Linnet's Wings. It had been really hot the last few days and I was beat. But the cool breezes called to me...

I rowed out in one of the dingys, got Linnet's Wings ready, and then went back in to get Pat. The kids were off up river somewhere exploring so it was just us. We had a nice little sail out to the main channel and then a dead run back. Only out for couple hours but it was nice. But Colin just has to put stuff back together down below and square things away. What a dump! What exactly is it that he did aboard at the dock the other day? There's stuff all over the place from uncompleted projects. Gad...

---




September

09/07/02 to 09/08/02 - Weekend Overnighter
1030 - Off Portsmouth Harbor, Portsmouth, NH
Colin and I began our long planned overnight trip at 10:30am after running out to get some subs for lunch, oil, and both 6 gallon gas tanks filled. There was an incoming tide, and just enough water by that time for Colin to bring Linnet's Wings to the dock to load up our gear. While Pat and I were at dinner with friends up at Mimmo's Italian resturant on Longs Sands Beach in York, Maine last night, Colin had worked on all of Linnet's Wings systems and got them going and done some long needed "house cleaning".

Heading Out
It was a tough ride down river against the current. There are 3 places in particular on the river that can easily kick up over 3 foot standing (and sometimes breaking) waves. This can seriously impeed progress. I am so glad I got the 15hp. That 6.6hp would never have made it! Overall, it took us 2 hours to go from our dock to the mouth of the river. It was a long, tough haul!

I had forgotten that the Memorial Bridge in Portsmouth went off its lifting every hald hour to just lifting every hour on the hour. We had to just "hover&quote; for about 15 minutes in some pretty crummy river chop. Once clearing the Memorial Bridge, it took us a half hour to reach the mouth of the harbor where we could finally shut off the "iron madien" and hoist sail.

Out To Sea
Unfortunately, there was only about a 5 knot breeze, so going was slow — though great fun despite that. The sun was warm, the sky beautiful, and there were dozens of sails dotting the horizon. We had thought about going out to the Isles of Sholes, but at over 7 miles offshore from Portsmouth Harbor in that light of a breeze it would have just taken too long. We cruised for a couple of hours and then swung the bow around and headed back toward Portsmouth.

Though we did get some patches of 8 - 10 knots, they were very few and far between. Plus, we were on a dead run back so going was slow and rolly in the gentle swells.

Engine Problems
We were thinking of heading back up river to Portsmouth's Prescott Park Docks for the night and going out to dinner somewhere in Portsmouth. However, right after we turned the engine on things did not seem to be going well. The engine kept sputtering out at low revs and would slip out of high speed. She was starting to smoke a little as well. Colin couldn't at first figure out what was going on - he thought it was a gas/oil mix, but even switching gas tanks didn't seem to help.

He looked over the side and saw we had picked up some line in the prop. We were just off Pepperell Cove when the engine shut down again. As we wallowed in the short swells caused by the outgoing tide as well as all of the boat traffic, Colin tried to clear it by leaning over the side. But he finally decided to just pull the engine out of the well. The main culpret was a piece of frayed line about 15 inhes long. We didn't clip a lobster pot, it seems this was just floating around just under the surface of the water and we snagged it.

Colin cleared it and got the engine back in and it seemed to run fine. By this time it was 5:30 and we knew it was going to be at least a half hour struggle against the current to get to Portsmouth and no guarantee that there would be space at the docks. We called the Portsmouth Yacht Club - new caretakers of the Pepperell Cove guest moorings - to see if there was availability. We were glad to hear that there was, and so we swung the bow around and headed across river.

Pepperell Cove
As usual, Pepperell Cove is protected by a vast mine filed of lobster pots that we picked our way through very carefully. I did not want to stall out the engine in that mess! But we made it to the mooring site in fine shape. The plan was to relax for awhile and then Colin would drive me into the dock, take Linnet's Wings back to the mooring, and return by the little one man rubber raft we had brought along as our dingy. So, I popped out a beer and Colin had a juice and we started to settle in when I noticed the Portsmouth Yacht Club launch picking up some people off of 2 of the moored boats. I called them on the radio and ask if they wouldn't mind hauling Colin and I and our raft over to the dock. "Sure, no problem," came the reply. Well, I couldn't just toss my beer- so we must have cut sterling figures to the other passengers as I climed aboard hoisting my beer to the lanch driver and Colin dragging Sinkable aboard the launch. First class. Reall first class stuff...

Colin named the rubber raft Sinkable after just a few minutes off the dock pulling it behind us: its bow seemed to just be sucked under and it immediately filled with water. It took us a few different towing configurations before we found one that worked: basically we had to lift the the bow of the raft up to the top of the transom. Unfortunately, we neglected to mention this quaint behavior to the launch driver who promptly burried Sinkable as she pulled away from Linnet's Wings. Another unique touch to our short trip to the dock for the other passengers to marvel at.

Colin securred Sinkable to the floaters and we walked up to Cap'n Simmions Galley for dinner. Surpisingly, there was over a 30 minute wait. We were hungry, so we opted to go to the upstairs lounge for "pub grub". Colin had run over to Frisbee's Market before meeting me inside to find out how late they were open. When he told me they closed at 7:30, I figured he better go back and get something for us for breakfast. As the waitress still had not even acknowledged that I was there by the time Colin got back, I stormed over to the bar and raised a stink. We got pretty good service after that, but unnecessary treatment for two hungry sailors off the dangerous seas, you know...

On The Mooring For The Evening
As I finished up my beer, Colin hopped into Sinkable and rowed out to Linnet's Wings. I called him on his portable VHF when I got down to the dock, and he swung Linnet's Wings over to get me.

We had chocolate donuts for a snack as we played several games of knock out backgammon. We were both really tired, so we turned in about 9:30. Besides, our cabin light had almost run down the battery. It was a beautiful night. Though Colin had rigged up some netting, we didn't have one bug attack! There was a very gentle breeze blowing and the night air was brisk- almost early Fall like. I slept in the bow and Colin on the starbord quarter berth. It was a rolling night in the swells coming straight into the moorage from the South, but I loved it although I was stiff and sore from the day's activities. All in all, it was a good night - and a great end to a great day.




Sunday 09/08

We awoke to bright sun and a soft breeze. Colin was all fired up to get rolling, so we choked down a couple of donuts and some juice, kicked over the engine, and motored out of the cove and Portsmouth Harbor. It didn't take us long to get out by the 2KR bouy and Whaleback Lighthouse. We threw up the sails and cut the engine. Just enough breeze to move us along very gently through the slight swells.

Sailing Along
It started to get hot fairly soon and we could tell it was going to be a scorcher. There was just enough of a breeze to keep our attention, but not enough to consider going out to the Isles of Sholes; it would just take too long. Colin was in command of the helm most of the day, though learning how to trim the sails in such light air was too tricky and he was distracted by some of the boats going by. I had to keep reminding him, "Aye, mate. Mind yer 'elm there!" He wasn't much interested in hearing that, however.

We sailed for a couple of hours and then turned around. We figured if the incoming tide was brisk engough, we might just be able to make the 11:00 Memorial Bridge raise. Maybe there would be better air up river. We made great time back to the entrance to Portsmouth Harbor where we dumped sail and fired up the engine. The swells going one way and the chop churrned up from the boats made for a really messy entrance.

More Engine Problems
And then the engine shut down! Great. Just great. So, Colin hangs over the side and sees seaweed collected around the prop. He clears it the best he can, but the engine conks out again about a quarter mile further up river. And here the water is REALLY churring. I'm talking steep enough chop that Linnet's Wings was broaching side to side through probably a 90 degree arch! Very thrillin hanging on.

A passing Marine Harbor Patrol boat saw us bouncing around and pulled alongside to assist. Colin was hanging over the side coming up for air as the waves pitched the boat the other way. "We picked up some seaweed in our prop!" I called out to the officer. He nodded and replied, "There's no seaweed in this river." just as Colin resurfaced spitting sea water all over. "Say, what'd you catch there?" calls out the officer. "Think I should throw him back?" I asked as Colin went under again.

Colin did the best he could as I tried to keep the boat headed up into the wind. But the current and size of the waves kept up broached pretty much the whole time. The engine would start but would not stay on; there was obviously more junk in the prop. "Looks like you'll have to pull it again, Colin." I called out over the howl of the wind and waves splashing against Linnet's Wings side. But he was already on it. It didn't take long to clear and the engine roared to life after Colin stuffed it back in the engine well. And so we waved to the Marine Patrol and continued toward the Memorial Bridge.

Heading Back
We didn't have to wait long as the Thomas Leighton harbor cruise boat was coming out the other way and they always pull the bridge for that. It was an easy quick trip with the current back to the Pomeroy Cove moorage. Where the trip down river against the current had taken 2 hours, our return - including the engine repair - only took about 45 minutes. What a difference!

As there wasn't much wind there either, Colin pulled Linnet's Wings up to the dock, cleaned her up, and then put her out on the mooring. I had an enjoyable afternoon sitting in the yard reading and watching the boat traffic. A good end to a relaxing (for the most part) overnighter.

---




09/22/02 - Sunday
0300 - Piscataqua River, Dover, NH
The breeze picked up all of a sudden and we were off! I took Marissa's The Wet One out to Linnet's Wings to ready her for action. It didn't take long. I then motored into the dock to pick up Pat as the tide was coming in and was just high enough. Smooth...

We motored out into the center of the channel and threw up the jib. The breeze was blowing about 12 knots and Linnet's Wings kicked it up and away we went.

We sailed for about an hour and a half down river up to across from the Eliot town landing. Not a great distance, but we did have to beat our way up there. The sail back was slower due to being on pretty much a dead run all the way.

Both of the kids came out in their boats to greet us as we rounded into the Pomeroy Cove moorage. Pat just jumped into Marissa's boat and headed in while Colin met me at the mooring and helped tighten Linnet's Wings up.

I finished up the afternoon sitting outside with a glass of wine and finished the latest issue of Sail magazine while watching the rest of the boats returning from their day out.

---




October

10/27/02 - Sunday
0300 - Piscataqua River, Dover, NH
Well, despite the good weather, it was time to move Linnet's Wings over to Great Bay Marine. She will be pulled out of the water on Tuesday and stored in the boatyard on jack stands for the winter. Colin follwed Peter over in Snow Day and assisted with the docking, pulled the engine out, and then the two headed back home. Colin returned on Monday by boat to check on her, and then had Pat drive him over on Tuesday to see where she had been placed in the boatyard.

---




November

11/02/02 - Sunday
1000 - Great Bay Marine, Newington, NH
Colin had to work up at Benn's Marine, and so I soloed over to GBM to check on Linnet's Wings and pull out the remainder of the gear. It was a really windy, bitting late Fall day.

I enjoyed puttering around Linnet's Wings: gathering up odds and ends, the mainsail that Colin had been nice enough to remove and fold, the porta-potty, fire extinguisher, etc. There were quite a few other boat owners working on winterizing their boats and so was a really nice experience.

Funny thing is that Linnet's Wings is in the tall weeds peeing with the big dogs this year: we are surrounded by 35' plus boats. Hope we don't get blammed for bring the neighborhood property values down!

After buttoning Linnet's Wings up, I drove down to the GBM docks to check out the action. The tide was going one way and the wind was blowing the other. The bay was in a really confused state with 2' blowing chop smashing into the docks sending spume flying through the air. Good thing we had brought Linnet's Wings over the week before as navigating through this would have been a nail bitting experience. And cold - too cold for these bones, anyway.

And so it's done. Linnet's Wings is snug in her winter storage. All we have now are the memories of a nice - but far too short - season. But, soon we can start to plan for and look forward to another season! All within the process of Nature as we know it (and sometimes love it) in New England.

---




December

12/15/02 - Sunday
1000 - Great Bay Marine, Newington, NH
Colin wanted to do some sort of work on Linnet's Wings, so we drove over and I dropped him off with all of his tools and gear.

On the way out, I noticed a guy trying to cover his 34' Sabre with a huge tarp. The wind was really ripping through the boatyard and it looked as though he was going to end up para-sailing without some help so I stopped. Between the two of us, we got John's boat Tecumseh securred for the winter.

---




12/26/02 - Thursday
0200 - Great Bay Marine, Newington, NH
Just had to check in with Linnet's Wings to see how she fared after our huge Christmas day snowstorm. Colin surprised me by taking me inside to see the 4 new cabin lights he had bought for me and was in the process of installing. It was quite a project! He had also bought another tarp and had snugged her down so well that the cockpit was free of snow. Should have brought the camera; she's a thing of beauty sitting high on her jack-stands!

---