---
Back to Peter's Thoughts On Backgammon Page | Back to Peter's Home Page | Back to Family Home Page
The Great 2006 Cinco de Mayo Backgammon Tournament And Arroz Con Pollo Mexican Fiesta 05/06/06
---
Cinco de Mayo! A great reason to have a backgammon tournament and dinner party! I fixed up a great Mexican baked Arroz Con Pollo - rice and chicken - dinner that turned out super; just enough cumin, oregano, and chili powder with some other ingrediants to give it just a hint of that spicy South of the border taste.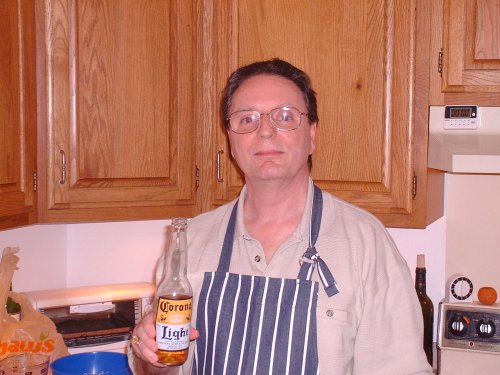 Unfortunately, I was so busy cooking and sipping away on my Corona that I didn't get a chance to play much backgammon. Colin and I battled it out for a few games but then it was time to eat followed by a too long clean up job. But it was great to have everyone around enjoying themselves. I was so busy that even though I had the tv on with the intention of watching the Kentucky Derby I totally missed the whole thing. Oh well, next year then.
---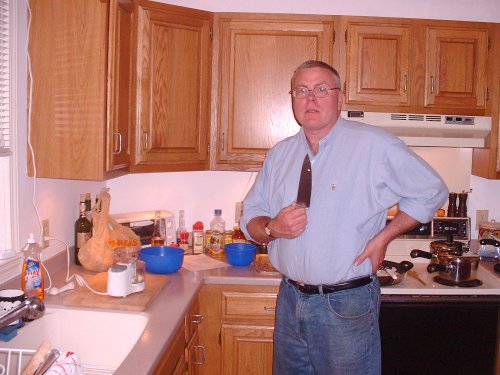 David Shaw looking for something to chop up.

But all the heavy lifting had been done and it was just a matter of some final spices and organization before popping the meal into the oven for 30 minutes - which gave me some time to play backgammon with Colin.

Marissa and her friend Ashley ham it up for the camera. They were getting a little silly as the hunger pangs set in as we didn't eat until after 8. I think this was a ploy to distract us from the backgammon and get on with getting out of their way so they could fix their dinner - tacos as they weren't keen on trusting my creation, though Ashley did at least try it and said she liked it.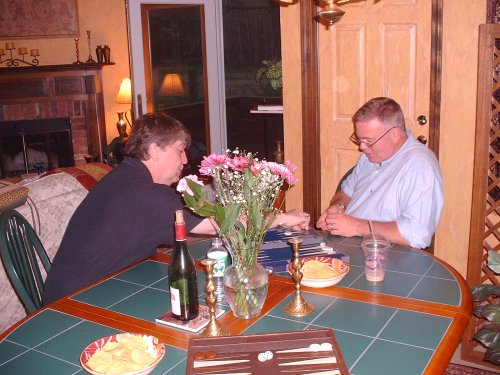 I don't know how many games Rick Downs and David Shaw played together, but it was quite a few. The only problem was there was no yelling or bad talk from either of them. I think they were both playing it cool remembering the last party where they had butted heads all night. I was afraid to ask what the final score was and no one was offering any information.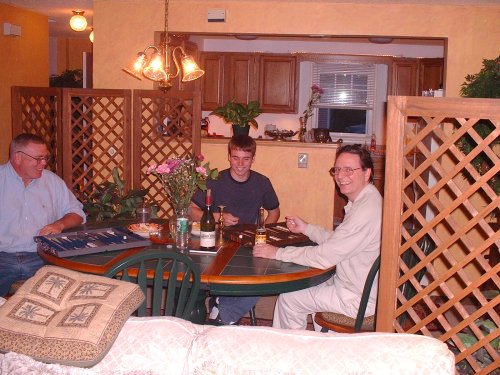 Corona at the ready, I smile slyly before tossing the dice onto the board for a crushing throw against Colin to help seal this 8 pointer for me. I needed the mo-jo for sure, though. Even with Colin fooling around in his inner board instead of bearing off, I only won the game by a half throw because I had got caught on the bar with 3 open blots around the board several throws before and had a hell of a time digging out from that. I should know better...

Ahsley and Marissa continue to create distractions even though at this point dinner was over.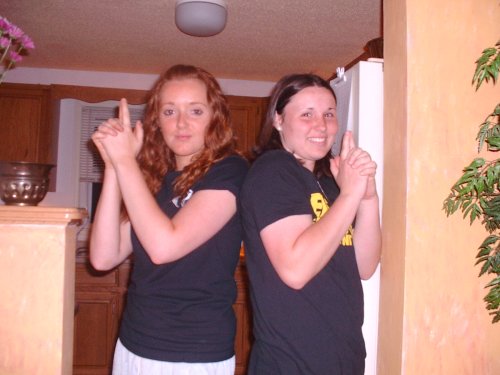 And I don't know what this routine was all about. Maybe posing to be selected for the next Charlie's Angels movie? I dunnomeyou...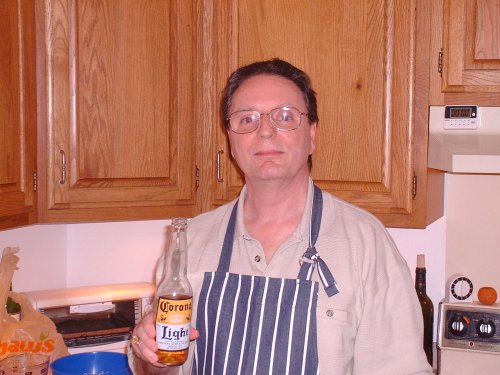 The chef pausing for a final taste of the food before serving. And what better way to wash it down than with a Corona!
---
Back to Peter's Thoughts On Backgammon Page | Back to Peter's Home Page | Back to Family Home Page