---
Back to Peter's Thoughts On Backgammon Page | Back to Peter's Home Page | Back to Family Home Page
The Great 2005 Dog Days of Summer Backgammon Tournament And Boc Choy Cold Salad Fest 08/20/05
---
This party was to celebrate the Dog Days of Summer - an end of a great Summer celebration. A few weeks ago I had been invited to my friends Charlie and Cindy Arlington's house for dinner. Cindy had prepared a great cold Chinese boc choy salad that I though would be great for this party. She graciously shared the recepie with me, and I think it came out really good.

Friday night I had such fun fixing it all up as I wanted it to marinate in the sauce overnight. I never knew what a marvelous smell boc choy had all by itself. I mixed the boc choy with Chinese cabbage, sesame seeds, oils, almonds, tamari sauce… man, it was great! I made enough to feed Shanghai, so I was relieved that I wasn't the only one who thought it came out good. Not bad for a city boy! But, I'll be eating friggin' boc choy for literally weeks!

The party was great fun. Lots of backgammon and yelling and telling lies and all that. It didn't go very good for me for quite awhile - my dice were so cold I got frostbite on my finger tips to prove it! Probably payback from my frustration at the store earlier that when Marissa and I stopped off to get some last minute things for the party. She was disgusted with me. But gee, I was heading for the check out line, but she pulls me over into one of those self check out lines because I only had about a dozen last minute things for the party. Well…

WELL, I did the best I could under the conditions — holding up under the pressure and all — but she's whipping crap out of the cart and trying to scan it all. But she got one thing scanned twice so we had to cancel the transaction but: you needed a store rep to do that. Well, it was so busy and I just lost my cookies over the whole thing. I grabbed everything already scanned, stuffed everything back into the basket, and headed for one of the check out lanes. Marissa was totally disgusted with my attitude. "DAD!" she hissed at me (several times, actually), "You have NO patience at all. You REALLY piss me off!". And there you have it. Let the truth be known: I piss everybody off. Oh well… So, after we got home I let her take my car to the Store 24 to get coffee. She was fine after that.

Marissa also decided that we had to go back up to the video store to get "...a more appropriate movie..." for tonight. She did not like my original choice of movie - the new Bridgett Jones movie. Who knows what she would pick out: could be anything from Princess Diaries to Alien Invasion. She picked out "Guess Who" with Bernie Mack, which actually ended up being an absolute scream. She had picked up some other ones to watch too, so when we got home she put the original Treasure Island in and we watched that for quite awhile. She had no desire to go to Mass with me, so I went by myself. When I got back she was half way through Tom and Huck, so I got stuff for the party ready and turned up the tunes (starting with Aerosmith) and she took her movie viewing upstairs until folks started arriving. Then the games bagan! Great time.

About half way through the movie though, I decided that Tim House and I should "cover the rocks" and have a Jack Daniels — for "medicinal purposes", of course. All the wheels generally come off the wagon when that happens, but everyone was just calm and winding down after fighting it out so long over the boards. After the movie finished and everyone had left, I cleaned up most of the area so I wouldn't have to mess with it in the morning. Marissa came in (this around midnight) wanting to read something before going to bed. So I said, "Well, why don't you creep yourself out with a little Edger Allen Poe?" She thougth that a grand idea, pulled the book off my shelf, and headed into the living room.

She was back pretty soon wanting to read out loud together. What a great idea! So, we turned all the lights off except the indirect lights and the corner floor can up lights and read passages of Edger Allen Poe to each other. She did "The Tell - Tale Heart" and I read "The Raven". Then she was off to bed while I started looking through the pictures from the party. I didn't head up to bed until about 1:30am. It was time...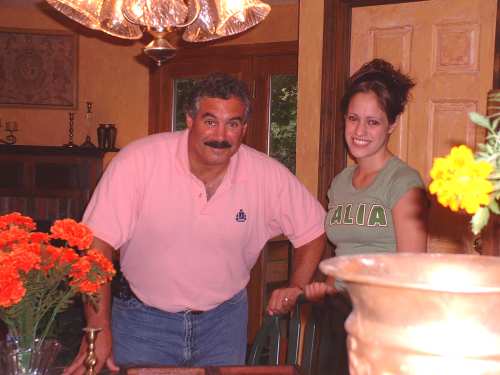 Scott Williams and his daughter Lisa were the first to arrive. Scott wasted no time in sitting down and getting on with it. Lisa turned out to be a good competitor as well. We just have to teach how to "talk bad" for next time.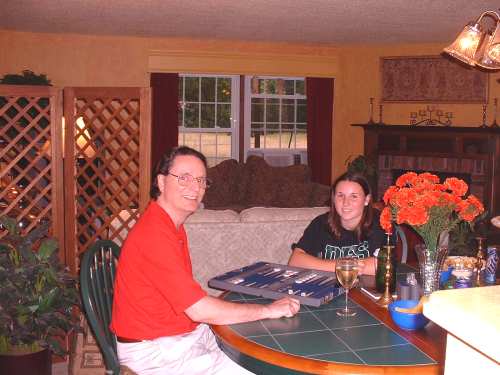 Marissa and I got a chance to butt heads a few times. She's getting pretty good at calling the throws, too. Unlike Lisa, Marissa does not need any help with the "bad talk".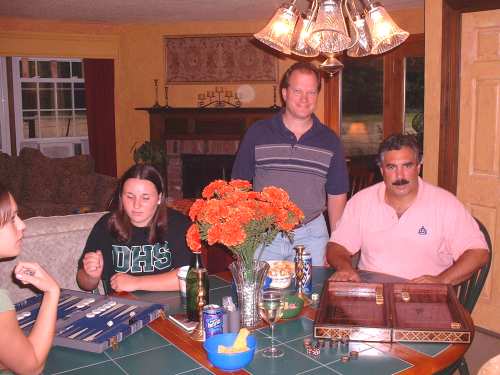 I shot this picture just after Tim House arrived. He didn't waste anytime in harassing the players, so we stuck him in a game as soon as a board freed up.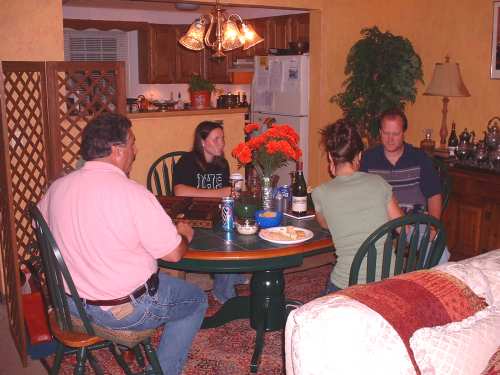 Everyone looks over at Tim and Lisa - was that "bad talk" coming from Lisa??? Tim, what's going on there?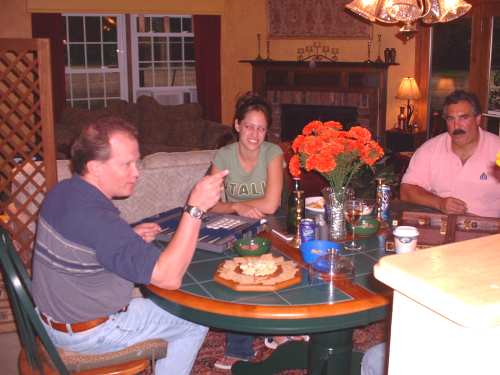 Tim threatening the fans. Hey! We were just sticking up for Lisa, Tim! Calm down and have some cheese and crackers!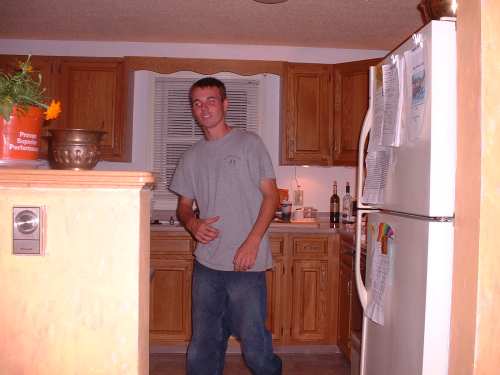 The great hunter Colin on a food quest.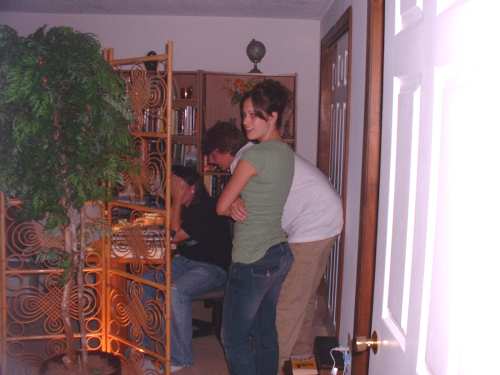 Lisa, Isaac, and Marissa around the computer in the library. You guys online looking up the rules of the game or what?

Rick Downs arrives with supplies! You never know when you're going to need a pizza... Stick that baby into stock and grab some dice!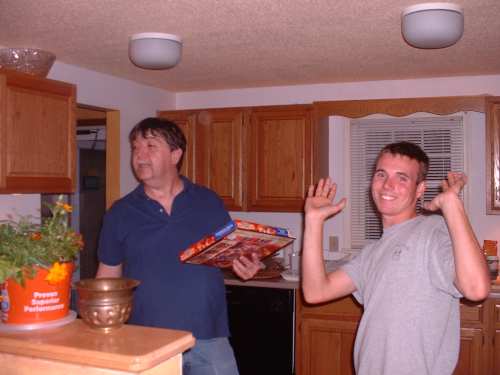 "For meeeeee?" No, Colin. Not for you. Rick is just teasing you. You can go back in your hut now...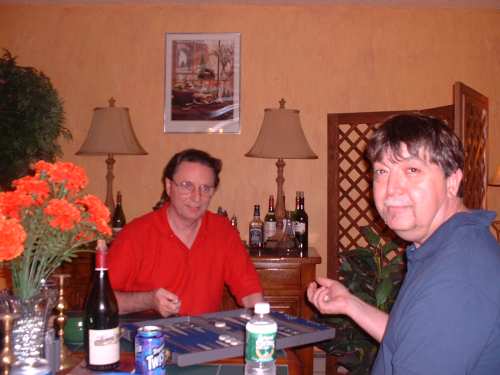 Rick, don't moon for the camera. Pay attention here! "Take, pass, or double" is all you need to concern yourself with.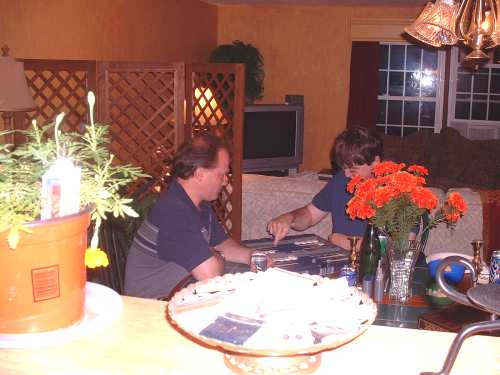 Rick harassing Tim.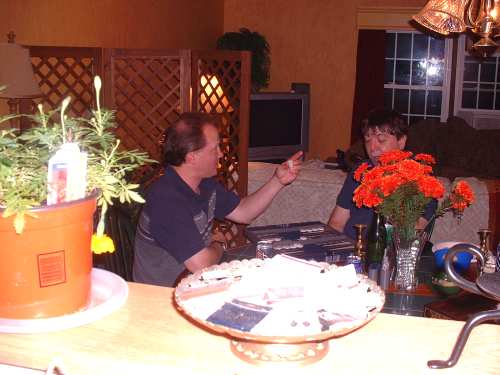 Tim harassing Rick. Doesn't get any better than this! Next they'll be rolling around on the floor with their fingers in each other's eyes - both long time black belts; Tim a 3rd degree and Rick a 1st.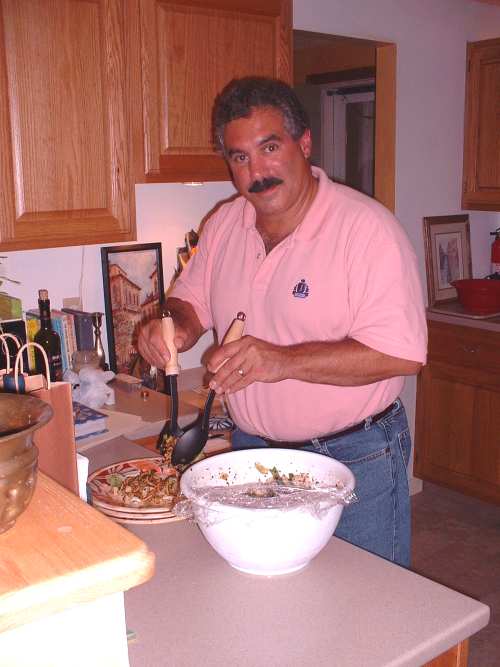 Did someone say food???? Scott chowing down on the boc choy salad. Colin wanted no part of it; nor did Marissa, Lisa, or Isaac.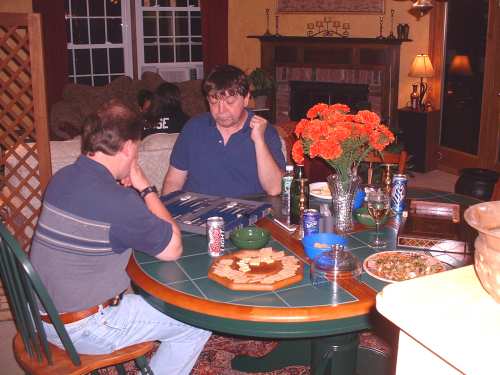 Notice that while others have gone and got their food, these two just won't give it up. They had to be pryed off the board.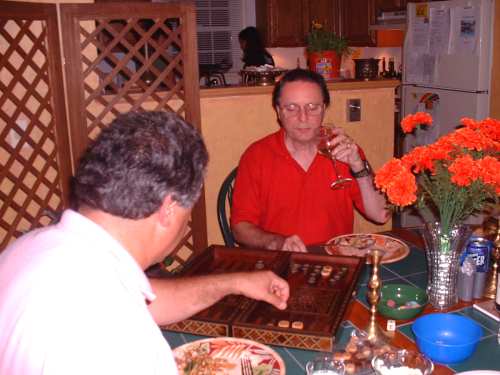 Scott and I on the other hand needed no encouragement to eat. In fact, we are so versatile that we can not only eat but play backgammon and eat at the same time! And I - probably because I'm older and wiser (or just meaner) - can eat, play, and drink wine at the same time! I'm a riot, eh?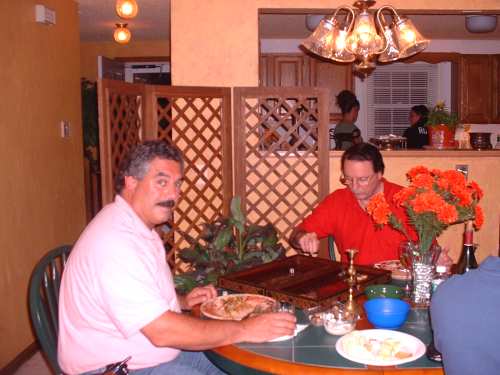 Scott, better pay attention when I'm on move because it's a thing of beauty to see me throw what I call.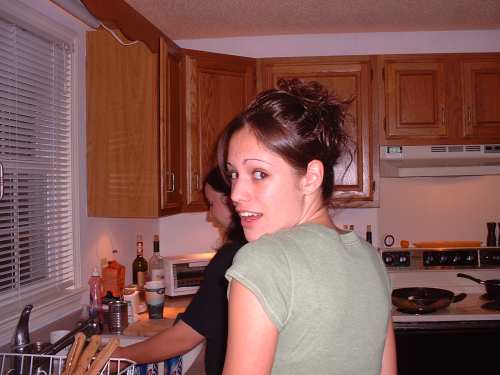 Marissa and Lisa wanted nothing to do with the boc choy salad. But at least they tried it. Here they are fixing up sloppy joes for their dinner.

I had to get a picture of the hand inlaid wooden backgammon board that Scott brought over with him. It is a spectacular board. The sides are high enough to double as a crap table. We really could slam the dice down on that board. And not only do the dice make a loud "whacking" sound when they hit the board, but they spin like whirling dervishes. Very cool, Scott.
---
Back to Peter's Thoughts On Backgammon Page | Back to Peter's Home Page | Back to Family Home Page