---
Back to Peter's Thoughts On Backgammon Page | Back to Peter's Home Page | Back to Family Home Page
The Great 2005 4th of July Backgammon Tournament And Mediterranean Vegetables Extravaganza 07/16/05
---
Another successful backgammon party! Just a few of us were able to get together Saturday 07/16/05 because of everyone's busy Summer schedule. But to celebrate the 4th of July, I just had to have a party! So, though the turnout was small, the games were not! I think we had some of the fiercest battles yet. It just seemed like everyone was out for blood. Almost every game it seemed as though both players found themselves on the bar numerous times. I think we had way too much fun...

I got an early start on preparing dinner (and drinking what turned out to be a really nice Chainti). I wanted to get it all out of the way so I could just let it simmer while I played. It sorta worked out that way. I think I get too carried away cooking and having fun sometimes - many times. Well, ok: all the time. It's way too much fun and I get side-tracked a lot. I fixed up my own version of a Mediterranean Vegetables recipe, and it came out super - if I do say so myself. A great triumph for a city boy...

The movie of the night was Hitch. Will Smith was hilarious! We all about fell off the couches onto the floor laughing and enjoying the movie. A great way to wind up the evening. And that's what it's all about - getting together with friends and sharing some good times and good food. Doesn't get any better than this - and that's ok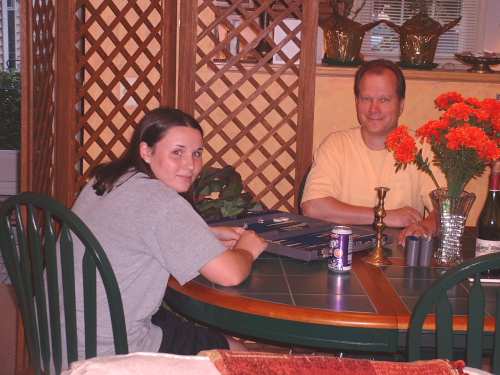 Marissa pausing in her first game with Time House. As the night wore on, these two became vile competetors - as other pictures will clearly show!

Rick Downs and his brother Galen arrive. It was a great Summer's afternoon, though a little humid.

Geezzzzzzzz, Rick! I can't help it if I throw what I call and make you dance to the bar. That wouldn't be a fist clenched in anger/frustration now would it...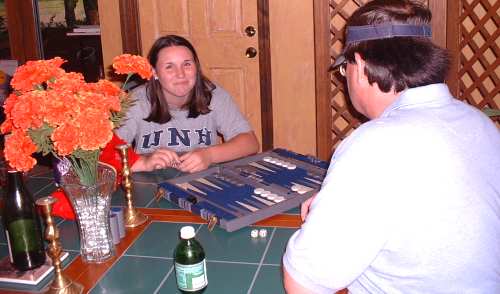 Marissa and Galen had a few pretty good matches. Galen is just learning to play but I'm not sure Marissa is much interested in cutting anyone any slack. Wonder where she gets that attitude from...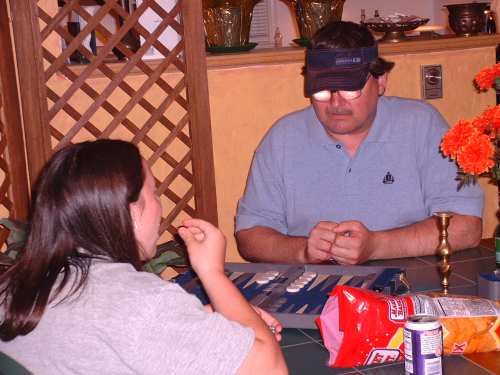 Galen studying the board intently later that game. Doesn't seem to be phasing Marissa, though.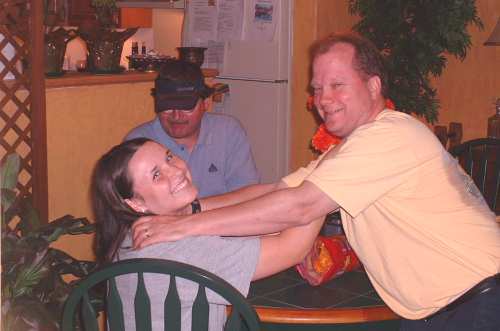 However, Marissa and Tim butted heads constantly through the evening's play. Though posed, this picture does represent their true feelings about each other's play. They ended the night threatening each other about "... next time..." Don't you just love sportsmenship?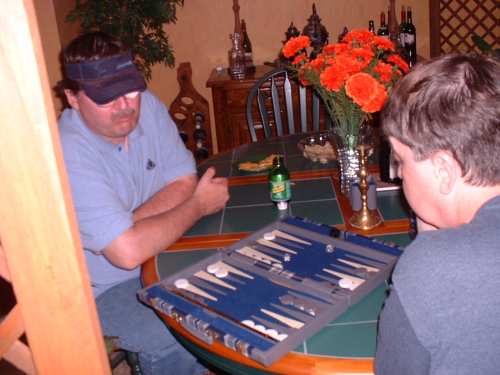 The Down's brothers in a moment of thought over their game.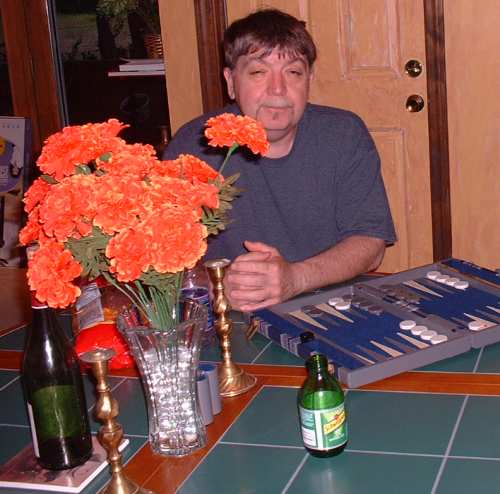 Rick Downs looking pretty smug for himself so early in the game.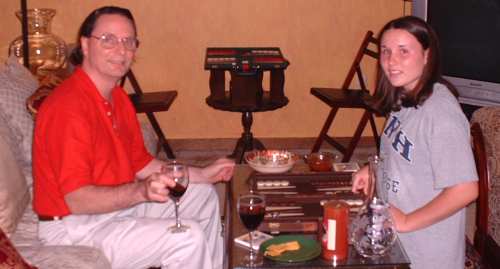 Marissa and I got some over the board yelling to balance out all the other yelling at each other that we do. She was disgusted with me for having Tim take this picture but gee, if I don't get in one of the shots somehow, then no one would even know that I was there. And it's my party! And hey look, I'm at least smiling before I kick your ass across the room...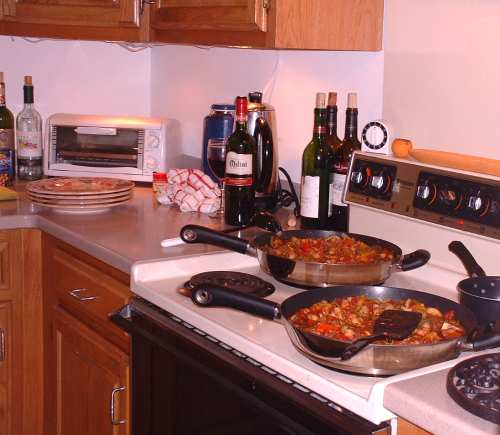 Ahhhhhh... Food! How nice it is. It took me a couple of hours of wine sipping, cutting up vegegetables, and wine sipping to get things to this point so I figured it was worthy of a picture!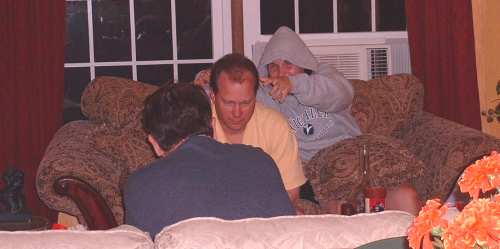 Gee, Tim, even when you guys aren't playing each other there is hostility in the air. Marissa did grab him and he demonstrated a couple of unique pressure point grabs on her. Note to Marissa: don't mess with a 3rd degree black belt. Another note to Marissa: and then don't think you're going to come over and try that crap against me! Remember, I was the one who originally taught him that stuff, so I think I have it pretty well figured out.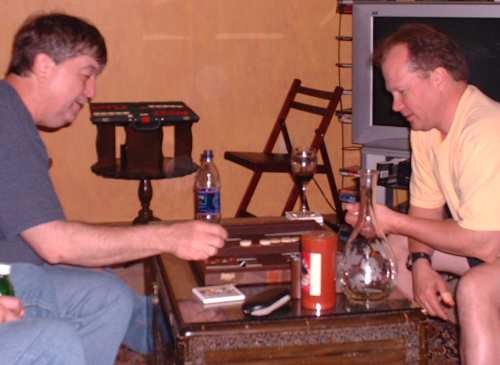 And these two guys just kept at it! I don't know how many games they played but this one was the final game of the night and we all wanted to get on with the movie. But no... On the bar. Off the bar. Back on the bar. How long is this going to go on? We all finally couldn't take it anymore and just started the movie without them. Killer backgammon! Couldn't get any better than that! Bring it on and we'll see you all next month for my next party. And let the bad talk begin!
---
Back to Peter's Thoughts On Backgammon Page | Back to Peter's Home Page | Back to Family Home Page