---
Back to Peter's Thoughts On Backgammon Page | Back to Peter's Home Page | Back to Family Home Page
The Great 2005 One Year At The Garrison Backgammon Tournament And Spaghetti Bolognese Celebration 06/18/05
---
My next open house backgammon party was held Saturday June 18, 2005. It started at 4:00pm and ended up around 11:30pm after the movie of the night U.S. Marshals finished. The party was to celebrate my 1 year anniversary here at my condo in The Garrison. And my birthday which was that Thursday.

I fixed farrow grain spaghetti bolognese and a multi grain organic bread with 4 different Italian dipping sauces. The pasta and bread came from Julie Anna Knoettner's new store in York, ME Trillium Fine Foods and Wine. Though I had told everyone the party started at 5pm, I actually began at 4pm. I poured out a glass of Pinot Grigio and stated chopping onions, mushrooms, garlic, sweet peppers, etc. up and getting everything going. I didn't want to be cooking and missing the games playing! Prep time took me longer than I thought but the sauce did end up simmering for a little over 2 hours and came out just great. But I did miss the first few games.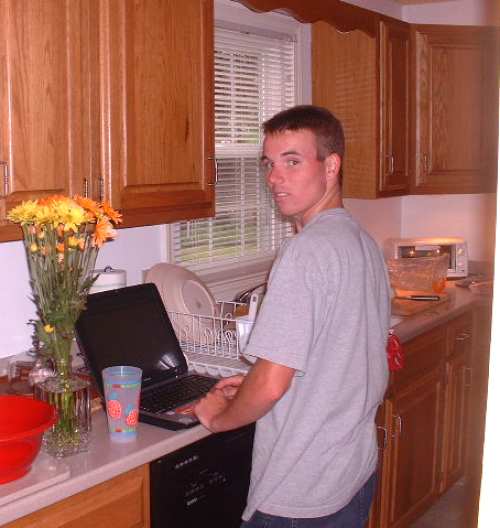 Here's Colin showing off his new laptop computer that he got for his high school graduation gift. He picked up a wireless connection from somewhere here in the condo project and walked all around the parking lot trying to find the strongest signal.

And here's the chef getting ready to start the cooking adventure! Though the expression here might not indicate it, I had more damn fun than humans ought to have!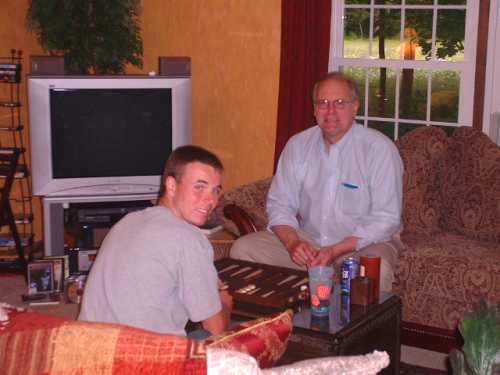 Colin and Jim Nancarrow pause for a moment during one of their games over the board.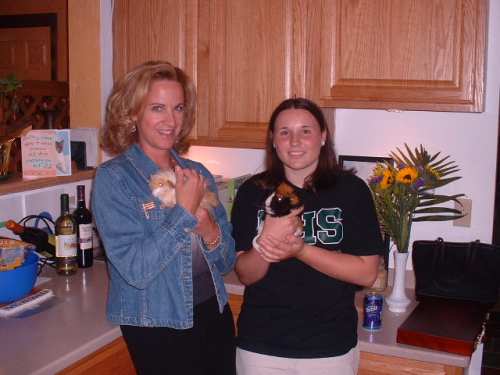 Sherrie Sheehan holding "Chewey" while Marissa holds "Cookie". I got Chewey for Marissa's birthday. She named him after the Wookie Chewbacka in the Star Wars movies. Cookie got his name from the Sesame Street's cookie monster character.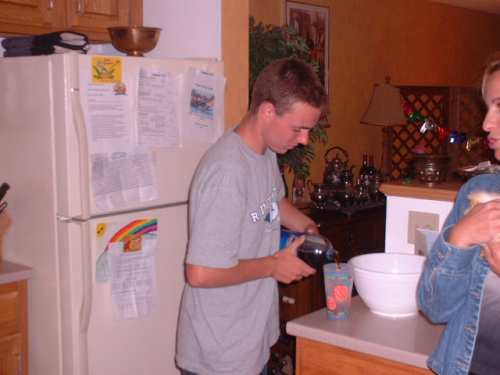 Colin stocking up on Pepsi...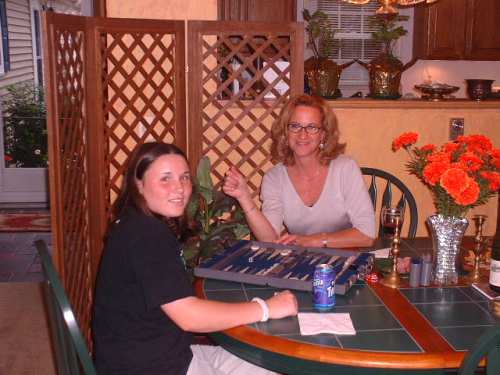 Marissa and Sherrie finally get down to it. Marissa killed her! I kept yelling over to Marissa to soften her up for us because everyone was gunning for her from our stunning defeats from the last party.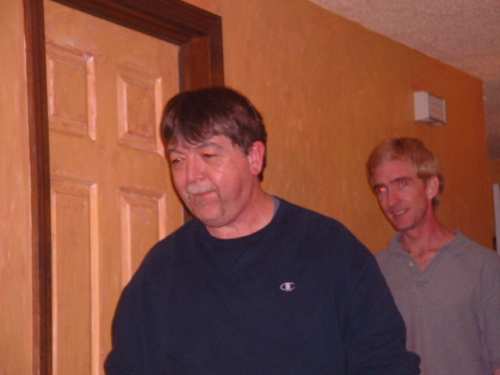 Rick Downs and Mike Houdek return from taking a peak at Rick's new truck. This is Mike's last party with us as the family is moving later this month to Austin, TX. He will have lots of traditions to continue there!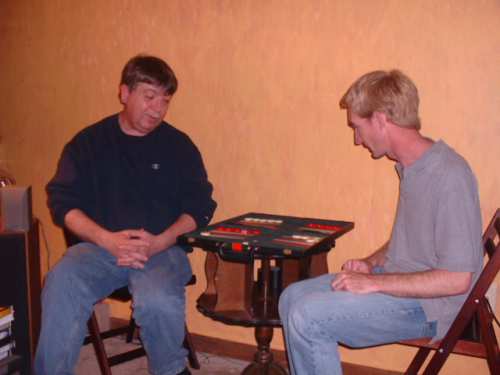 They headed straight for the board!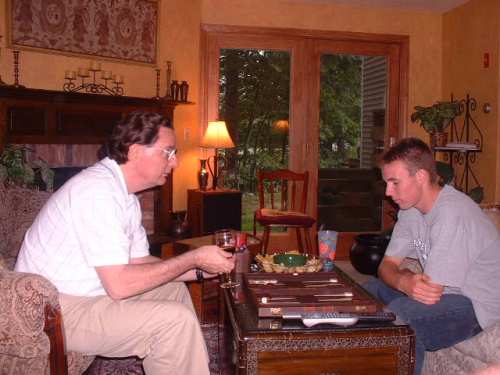 Yes, I can drink wine and throw the dice at the same time and still kick the crap out of you...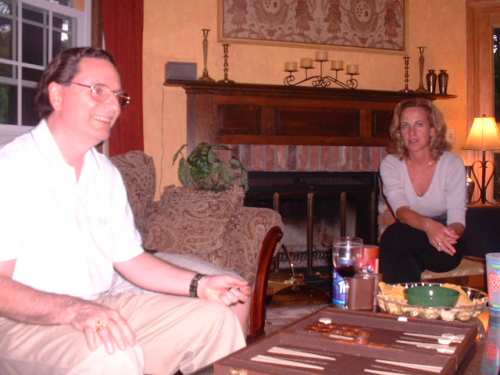 Me smiling later that game. I always kick 'em when they're down. I mean, just look at the board: I'm all stacked in my inner board ready to start bearing off, Colin has a guy all the way back, and even though I'm on the bar, he's got blots all over his inner board, and he's stuck with a double cube from me. "Stick a fork in him 'cause he's sure done" "Amarillo Slim" Preston used to say over the poker table about such conditions. And Sun Tzu said: "Every battle is won or lost before it is ever fought". No kiddin'. This one was over last week then... Sherrie looks on waiting patiently for this game to end so she can have a run at me. Bring it on, Sherrie. Just, bring — it — on...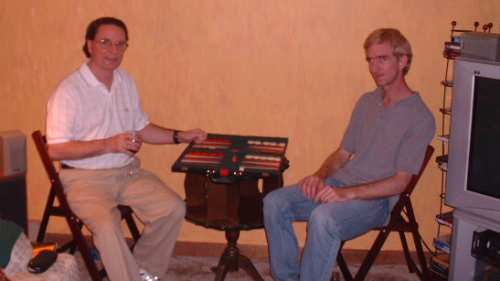 But first I had to take on Mike. Can't have him leaving without a couple of final battles over the board to keep him sharp.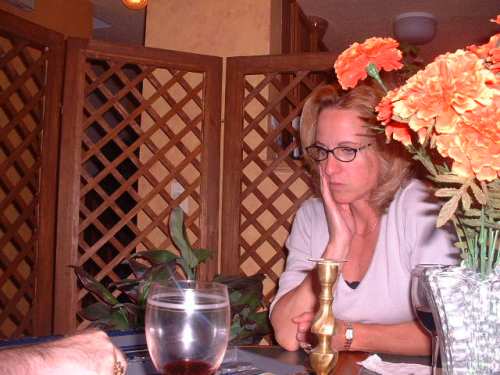 And finally, it's Sherrie and me... Oh, ya it's me causing her the grief and long face - that's my cobra ring reaching out to move my checkers into another deadly position of anguish for her.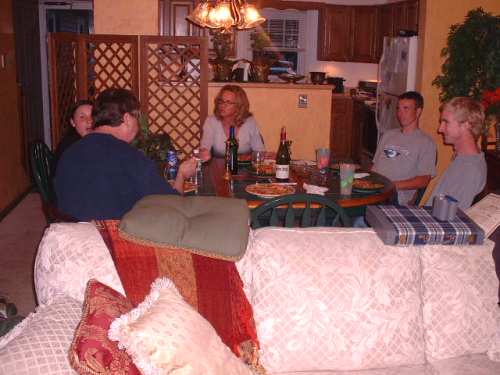 A short break in the action to have dinner.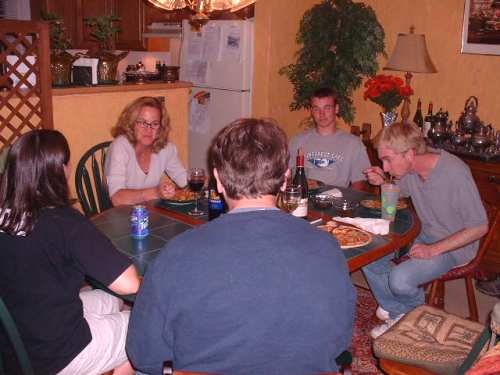 Everybody ignoring Sherrie whine about her losses... More important things to do. Like eat....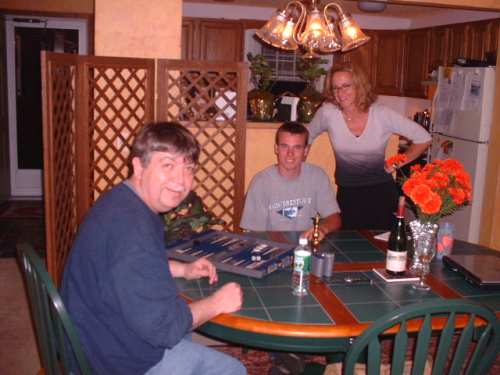 It's easier to watch someone else get their ass kicked! Rick Downs and Colin at it again. I don't know how many games they played, but there was an awful lot of bad talk going on between them all night.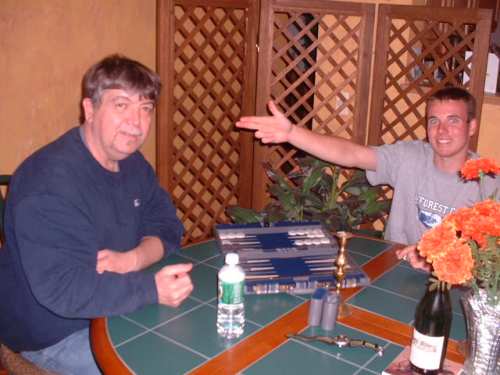 Ah yes. An example of that bad talk. Can you guess who's winning this game?
---
Back to Peter's Thoughts On Backgammon Page | Back to Peter's Home Page | Back to Family Home Page