---
Back to Peter's Thoughts On Backgammon Page | Back to Peter's Home Page | Back to Family Home Page
The Great 2005 Pre Memorial Day Backgammon Tournament And Chinese Wok-A-Thon 05/14/05
---
I had an open house backgammon party Saturday May 14 from 5:15pm until it was done! I figured we'd get a jump on Memorial Day and the start of summer! As usual, we capped off the evening with a movie - National Treasure.

David Shaw from York had offered to assist in the cooking but turned out doing the whole thing. He had done a lot of the prep work the day before and after only about 45 minutes of heating and stir-frying presented us with a super meal. As a tease, I just have to list what David fixed for us:

pan fried beef dumplings with a dipping sauce of soy sauce, vinegar, garlic and ginger
shrimp with peapods with general tao's sauce
pork with mixed vegetables with a sweet ginger sesame sauce
beef with scallions with a sweet bean sauce
steamed jasmine white rice

The dice were in constant motion from 5:30 until 9:30 with just a brief interlude for dinner. Everyone had a chance to play everyone else - sometimes numerous grudge rematches. I could tell everyone was in the spirit by all the bad talk and yelling going on all night - even as people were going out the door at the end of the evening, they were making threats about "next time" and how the dice were going to crush them. Great fun!

Marissa and Nancy in a more friendly pose. Marissa was aggrivated that Nancy arrived "late" with the spicy cheese (being displayed as proof of its arrival). Nancy and "the girls" Molly and Abby had fallen asleep in an afternoon nap and got a later than "promised" start to come over. Marissa was really chomping at the bit for that cheese. And to play with "the girls".

David and Suzzie Shaw arrive carrying half their kitchen with them. "Have wok; will travel" seemed to be the theme. All David needed from me was the stove and a couple of large frying pans.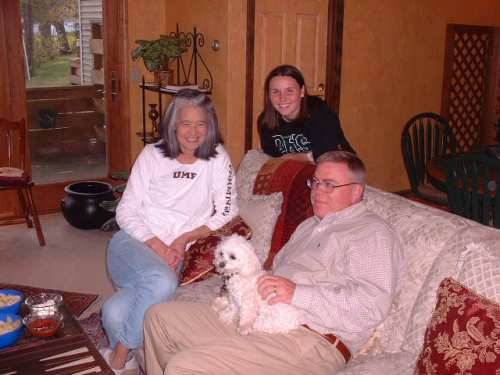 Suzzie and Marissa look on as David soothes Molly. Molly - being a dog - doesn't play backgammon, but she and Abbie seemed to delight in barking at every poor move made! The ultimate in "trash talk" because you can't come back at them with much else than "... Oh! Now. Cut it OUT!"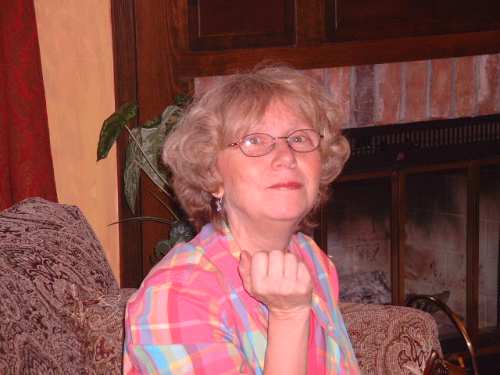 "In this hand is a 5 - 3 and a WINNER!". Or something like that. You can tell by the face that this is a true gamesperson. Serious stuff. It's scary to think how visceral Nancy will be when she starts doing "chair throws" and making it stick...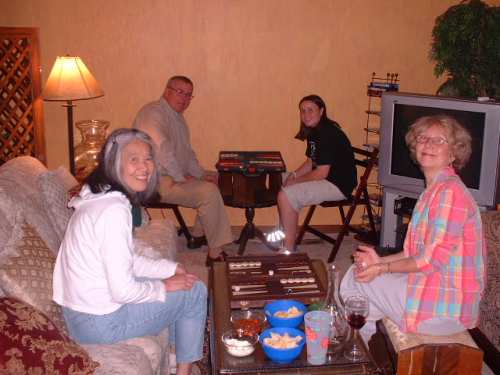 Suzzie Shaw playing her first "live" opponent: Nancy. David had just taught Suzzie how to play and she had only played against a computer game before. Nancy taught her some trash talk. She's off to a good start, I think. She'll be back... David Shaw and Marissa had paused briefly in their game to egg Suzzie on.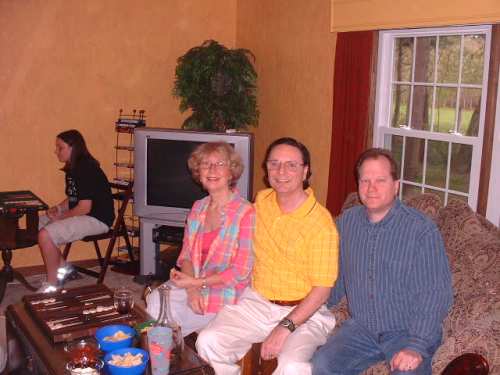 Nancy pauses in her game with Suzzie to have her picture taken with a couple of her fans: me and Tim House. She and Tim had some exciting games later in the evening - some veiled threats between them about "next time", I believe...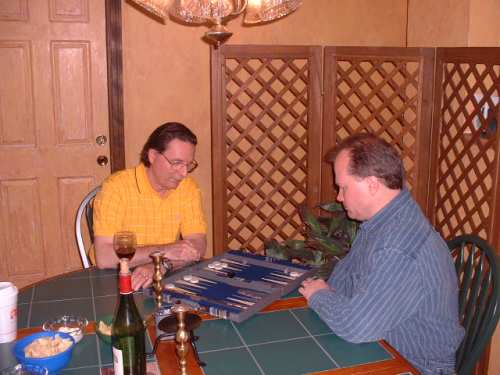 Tim and I battled it out in this 3 game series where winner and loser were only a half throw apart. I really don't remember but I don't think I came out ahead in this series. Great games. But I'll get him "next time" regardless...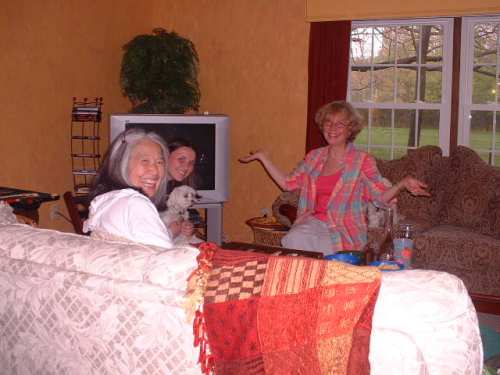 Suzzie and Marissa look on as Nancy does the "next time shuffle". Ya, ya Nancy. I keep telling you that the bad talk isn't enough. You have to leap to your feet, scowl menacingly, announce your dice with a vindictive tone, and then throw the dice. Works for me because you get pissed off every time I do it to you. But then - as any of my students will tell you: I'm just that way. In control of the cosmic forces of nature and all that crap. But I do get the dice to hit an irritatingly amazing number of times...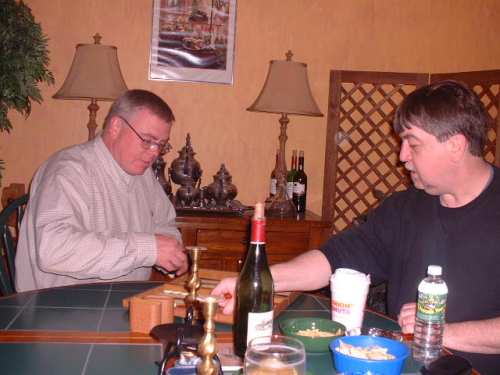 David Shaw and Rick Downs in one of many of the games that they played. Not real sure if they bad talked each other more or less than the number of games they played...

Colin arrives "causually late". He had worked earlier in the day and then had a project with the docks at the house he got wrapped up in. He walked in the door running his mouth, and the crap just kept coming all—night—long...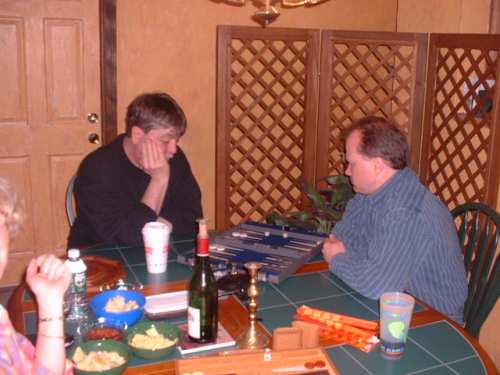 Rick Downs looks like he is puzzled over the next move, but he is really thinking up some trash talk for Tim House. Not sure it worked. But, he'll be back "next time"...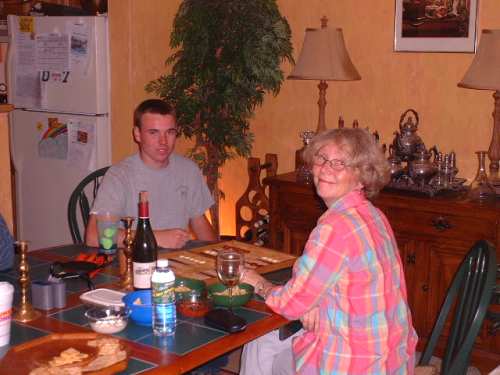 Gee... what a pair. Two trash talkers: Colin and Nancy. Nancy was really out to get Colin. Hey! That's only what I heard... Not sure how it came out, but at this stage of play they seemed fairly calm.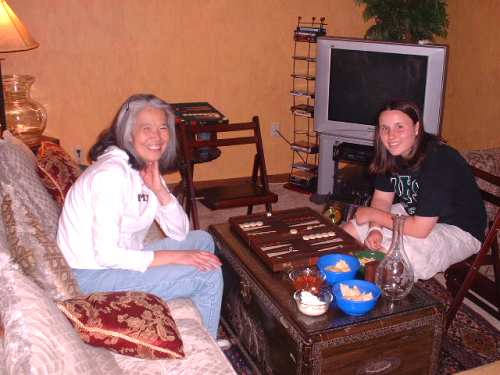 Suzzie gets the fine points behind the meaning of "getting your ass kicked over the board" by Marissa. But she'll be back "next time"...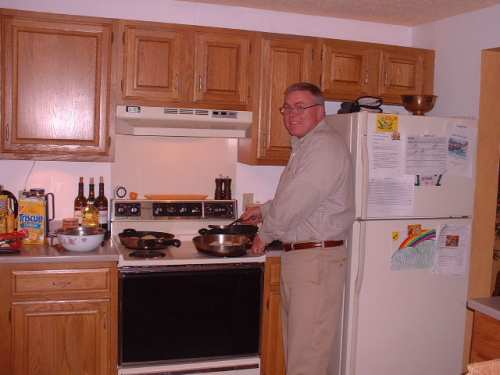 David Shaw in the early stages of preparing the dinner. He was scrambling all over the place from this point on organizing and coordinating everything. He took great delight in kibitzing others from afar whilest remaining safe behind a raised spatula. But nobody was busting his chops because he was behind the food. Noone messes with the guy behind the food...

Marissa and Tim House appearing to be getting along. They really weren't. They were at each others throat. And they'll both be back "next time"...

David Shaw monitoring my stir frying technique. That's ok, Dave. Don't forget we have some backgammon to play later...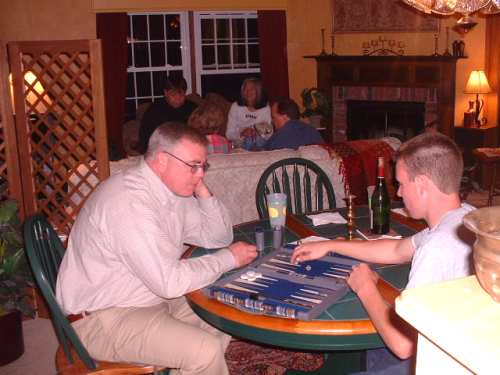 These two guys just wouldn't quit! David Shaw and Colin. What a pair they made. Constant needleling, and antagonizing commentary, and veiled threats of various forms of bodily harm just kept going between them even when they weren't playing each other. They'll both be back for more "next time". For sure...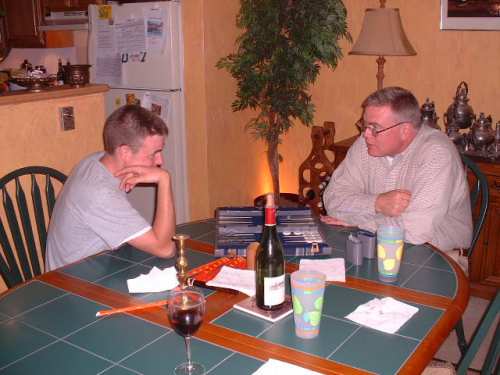 See! See what I mean? It just didn't stop! Ever...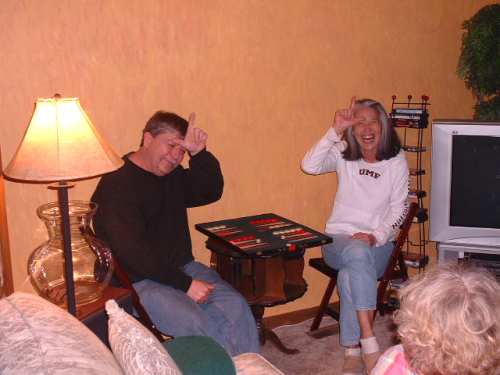 Oh, man... You can see the level of mature play going on here between Rick Downs and Suzzie Shaw. But Rick: you have to do it with the right hand...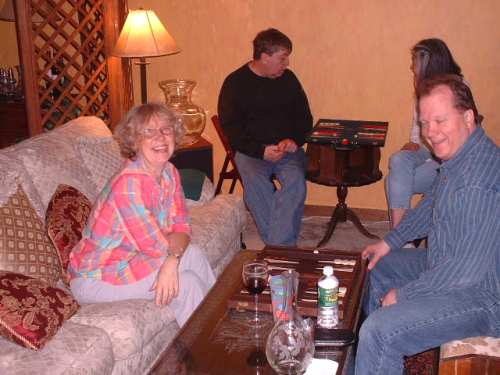 Nancy looking something like a cat dragging in a dead bird. Tim House seems to be taking it well playing the part of the aforesaid mentioned dead bird... Not sure how the game came out, but at this point it at least appears that Nancy's trash technique is in full swing.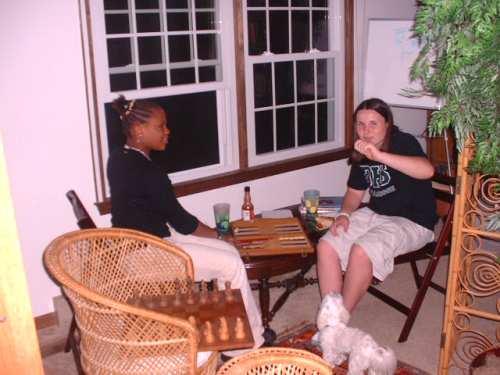 Hanah Lukins learing the game from Marissa in the library. Not sure Hanah knew exactly how to take all the crazyness going on in the rest of the house. Marissa must have done a good job introducing the game to Hanah, though, becuase she came out and played a couple of games with some of the folks. She seemed to catch on pretty good. Now if she likes it, Marissa can teach her the trash talk part.

Ya. Well, we may all look happy. But deep down inside we are all seething with rage - trash talk boiling just under the surface. What was really fun was that after most of these pictures of smiling people were taken, they would almost all immediately turn on each other with some of the most vile comments. I was truly appauled. Sure, I was; really ;-)...
---
Back to Peter's Thoughts On Backgammon Page | Back to Peter's Home Page | Back to Family Home Page